Athletics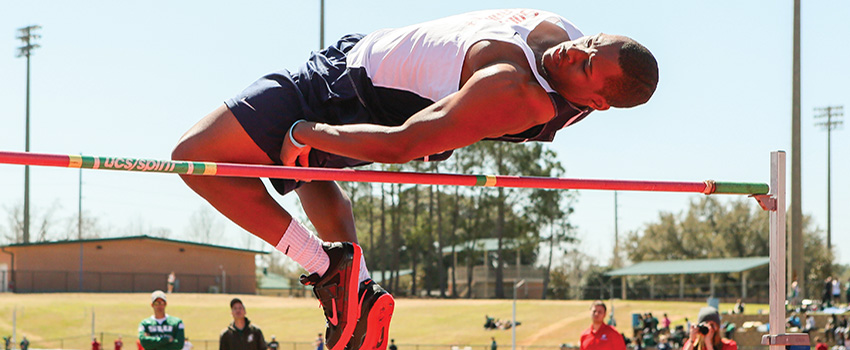 The Jaguars compete in NCAA Division I, and USA is a charter member of the Sun Belt Conference. South's nearly 400 student-athletes combine athletic skills with academic achievement, demonstrating excellence on the field and in the classroom. The football program, created in 2009, earned its first bowl appearance in the Raycom Media Camellia Bowl in 2014. The school mascots, named SouthPaw and Miss Pawla, are regular fixtures at athletic events and in the community.


Sports Teams
Baseball (Men)
Basketball (M,W)
Cross Country (M,W)
Football (Men)
Golf (M,W)
Soccer (Women)
Softball (Women)
Tennis (M,W)
Indoor and Outdoor Track and Field (M,W)
Volleyball (Women)


Alumni
A number of South Alabama student-athletes have gone on to notable professional careers. They include baseball's Luis Gonzalez, Juan Pierre, David Freese, Jon Lieber, Marlon Anderson and Adam Lind, basketball's Terry Catledge, and golf's Heath Slocum. Hannah Campbell was the third selection in the 2014 National Professional Fastpitch League.


Sports Venues
The 10,000-seat Mitchell Center, known as "The Jungle," hosts the men's and women's basketball programs and a variety of events throughout the year.
The baseball team plays at Stanky Field, part of a baseball complex that includes the 4,000-square-foot Jon Lieber Clubhouse and the Luis Gonzalez Hitting Facility. The stadium is named for Coach Eddie Stanky, who in 14 years at the helm at South Alabama posted a 488-193 record with 13 consecutive seasons of 30 or more wins, five NCAA Tournament appearances, two Sun Belt titles and No. 1 national rankings on two occasions.
The Jaguar Gymnasium is home to the volleyball team. In recent years, Jag Gym has undergone renovations to the flooring and added a new scoreboard and seating.
The tennis program operates out of the Bruce David Lubel Memorial Tennis Courts, which features eight courts with bleachers for spectators. The facility has been the site of NCAA Men's and Women's Tennis Regionals and 12 Sun Belt Conference Championships.
Members of the Jaguar track and field and cross country teams train and compete at the Jaguar Track. The track features a Mondo surface, the surface of choice for the Olympic Games.
The women's soccer team plays at The Cage. Jaguar Field hosts the softball team and a softball field house, an 8,800-square-foot facility with training rooms, lockers and offices for players and coaches.