Biology Student wins Life Sciences Thesis Award
---
Posted on December 16, 2015 by
---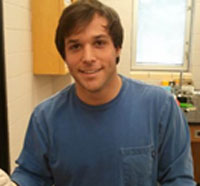 ---
Each year, a committee selects the USA Thesis of the Year in each of two categories: Life Sciences and Social Sciences, Business, and Education. This year's award in the Life Sciences category went to Dillon G. Patterson, a Biology Graduate student, for his thesis, "A Significant Percentage of Small Nucleolar RNAs are Processed into MicroRNA's." His thesis advisor is Dr. Glen Borchert.
It is also of note that Dillon completed his M.S. in Biology with a 4.0 GPA and did so in the shortest time in the history of the program, one calendar year!
He is in now enrolled in the doctoral graduate program in Genetics and Molecular Biology (GMB) at Emory University.
All we have to say is... Go Dillon!
---
---