Instructional Design & Development Program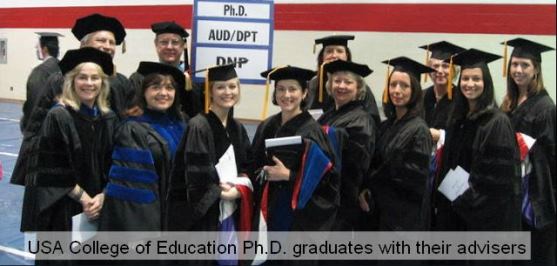 Welcome:
Welcome the University of South Alabama, Instructional Design & Development program's website! Thank you for your interest in the University of South Alabama. We'd like to take a moment to tell you about our Instructional Design & Development Program.
We offer the Master of Science and Doctor of Philosophy degrees in Instructional Design & Development. Both of our programs offer high quality educational opportunities that combine practical, "hands on" activities with a solid theoretical foundation. Many of our courses are web-based which adds additional flexibility to the learning process. In fact, it's possible to complete the Master's degree entirely online! We have a limited number of graduate assistantships available every year, an active Student Group, and a talented group of professors. We also have modern, up to date teaching, administrative, and research facilities - including several nice computer labs with current software and peripherals.
Our graduates have been very successful in finding employment and internships in Mobile, the surrounding region, around the nation, and throughout the world. For example, our students have recently been hired by Raytheon, BearingPoint, the U.S. Navy, the U.S. Coast Guard, FedEx, the United States Sports Academy, and the U.S. Army Corps of Engineers, among others. We've also had recent Ph.D. graduates hired as professors at the University of West Georgia, Loyola University Chicago, Georgia State University, the University of Memphis, the University of South Alabama, the University of West Florida, and Mercer University, among others.
Our faculty are committed to making the IDD program here at South Alabama one of the best in the world. Each of our full time faculty has practical work experience in instructional design and holds a doctoral degree from a top university. Each of us is dedicated to the mission of teaching and to keeping our courses on the cutting edge of the field. In addition to teaching, the IDD faculty are active in research and scholarship and have authored numerous books, articles, and other papers on a variety of topics. There are excellent opportunities for Ph.D. students to work closely with faculty on research and consulting projects from the first day they enter the program!
The University of South Alabama is a great school. USA has just completed an amazing expansion of the main library, has started a technology park, and maintains some of the best academic programs in the state and the region. In addition to academic quality, USA has a lot of fun extracurricular activities. We have a wonderful athletics program. The Jaguars are a traditional power in baseball - an afternoon spent watching the Jags in action at the beautiful, newly remodeled Stanky Field is a "must-do" experience. We also have a beautiful new on campus basketball facility - the Mitchell Center - where both the men's and women's teams compete. The Mitchell Center is also used for concerts and other events
Mobile is a wonderful city to live and work in. Close to some of the best beaches in the world, surrounded by water, blessed with great weather, filled with beautiful parks, and home to many top public and private golf courses, Mobile provides an almost endless number of outdoor activities. Mobile is also home to Mardi Gras, the Senior Bowl, the Mobile, Alabama Bowl, world renown gardens, and great museums. In addition to these activities, Mobile offers affordable housing, terrific medical facilities, a nice, modern airport, numerous churches, and great seafood! Recently, two large international corporations - ThyssenKrupp and Airbus - have located major operations to the Mobile area. They join other current large employers such as Austal USA in what should be a huge benefit to the local economy for years to come.
If you are looking for an instructional design graduate program that combines a great faculty, talented students from around the world, modern facilities, and hands on experience in a beautiful city, South Alabama is the place for you! We feel our program offers the perfect mix of the academic quality, professional experiences and research opportunities you'll find a larger school with the small town, individual, collegial atmosphere you'll find at a small school.
If there is anything we can do to assist you, please contact us. We'd love to tell you more about our programs and discuss how we can help you achieve your personal and professional goals. You may wish to set up a time where you can visit with us, talk to our faculty and students, and tour our facilities.
Thanks again for your interest in the University of South Alabama and Instructional Design & Development.
Sincerely yours,

The Instructional Design & Development Faculty
---
---