Honors Convocation Ceremony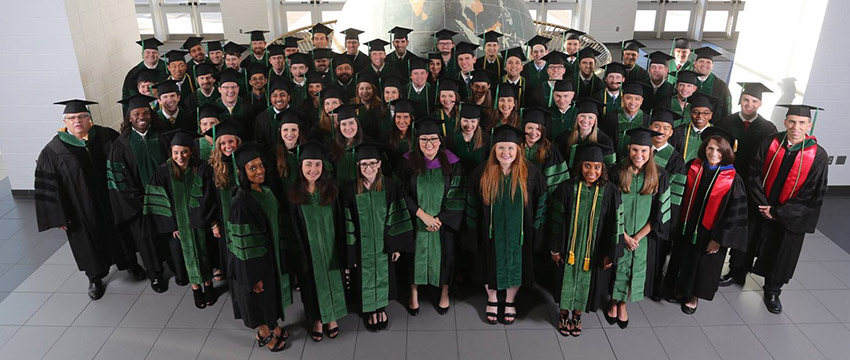 The College of Medicine Honors Convocation for the Class of 2017 was held at 7:00 p.m. on Friday, May 5, 2017 at the Mitchell Center. The welcome address from the College of Medicine was presented by the Vice President for Medical Affairs, Dean of the College of Medicine, Dr. John V. Marymont. Dr. T.J. Hundley, Associate Professor, Department of Internal Medicine, Assistant Dean for Medical Education & Student Affairs delivered the keynote address to the class and the class response was presented by Bradley Edmonds. The Hooding ceremony of the graduates was led by Dr. Susan LeDoux, Associate Dean for Medical Education & Student Affairs. Graduates were assisted with their "hood" by an individual(s) of their choice, signifying the awarding of a doctoral-level degree. The military oath of office was conducted by Colonel Frank S. Pettyjohn. Dr. John V. Marymont administered the Hippocratic Oath. Dr. Susan LeDoux acknowledged the AOA members, the Gold Humanism Honor Society student members and the scholarship recipients.
During the honors convocation ceremony, students also were recognized for their academic and leadership achievements. The senior class selected those members of the faculty who had the most meaningful impact on their medical education and for their positive influence. The faculty selected by the class of 2017 wore a scarlet red stole over their academic regalia during Honors Convocation.
Honors Convocation Ceremony Links
Honors Convocation Awards Program: Class of 2017 [PDF]
Honors Convocation and Graduation Photos for 2017 [Flickr]
Honors Convocation 2017 photos on Facebook
Med School Watercooler article for 2017
VIDEO: Honors Convocation 2017
Class of 2016 Links
Honors Convocation Awards Program: Class of 2016 [PDF]
Honors Convocation and Graduation Photos for 2016 [Flickr]
Honors Convocation 2016 photos on Facebook