Alumni Spotlight: Joel Ponce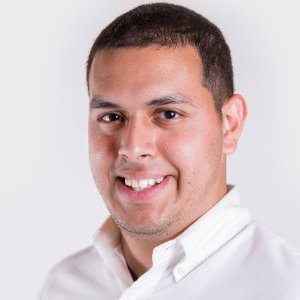 My time and experience at the University of South Alabama will forever be one of the most inspiring and treasured moments in my life. I came to USA knowing I wanted to dive deeply into the world of business. I got what I was looking for and so much more. The Mitchell Scholarship allowed me the opportunity to pursue my intellectual and professional curiosity. The MCOB provided me with a strong foundation and competitive set of experiences that have set me apart from the start. In addition, the Honors Program expanded my worldview by exposing me to coursework outside of the world of business with peers across fields.
My journey after South Alabama has been one of self-discovery and the pursuit to do great work.
This has taken many forms, some in the workplace, others in the community. I've had the privilege to Emcee a TEDx event, host a Startup Weekend event, and serve as an advisor at a children's non-profit and the Crystal Bridges Museum Artinfusion program. My work outside of work is just as important to me as the work I do day-to-day. It connects me to the community, I meet talented people, and most importantly, we give back.
It's funny how things make sense in retrospect. All the work I did with the support of my professors and many peers at South Alabama in starting Jaguar Arts,a company I created that sells artwork of Jaguar Athletic events and other photos of campus, eventually became the perfect foundation to launch me to a larger platform, one I never planned for but had to take. That experience allowed me to earn an internship opportunity with Saatchi & Saatchi X. This experience immediately leveled me up. I jumped into the big leagues. My primary account was Procter & Gamble working with most of their health & beauty brands (Ex: Gillette, Old Spice, Pantene, Herbal Essences, etc) in launching new products at Walmart. The objective was always to drive sales, in-store and online. That experience is crucial to all the work I will do moving forward. But likely more important than the work itself, I learned the value of company culture. It's all about the people. I will never forget that and to this day the people at Saatchi are family to me.
As fate would have it I later joined a startup called DataRank. I had worked with the team at DataRank on various projects while at Saatchi and became fascinated with the technology. My experience in working with blue-chip clients both on the brand and agency front has become invaluable in growing our business. Furthermore, DataRank was acquired by Simply Measured shortly before I joined so I have quickly become accustomed to change. More importantly, I now have experience integrating teams, processes, and products. At Simply Measured I get to work with some of the largest brands and agencies in leveraging social data to drive business results. This takes many forms but it usually consists of helping them analyze owned, earned, and paid social data both pre and post campaigns and surfacing actionable insights.
All of the above have and will continue to serve as key pillars in my life. They are all data points that will come into play throughout my life. At the end of the day I like to think that I haven't done anything yet, this is just the beginning. I credit my experience at the University of South Alabama for showing me the impact one can have on a life through education, for allowing me to dream big and take chances, and for the lifelong friendships with my peers, professors, and the administration.
Joel Ponce
Senior Customer Success Manager
Simply Measured
Joel Ponce graduated with University Honors from the Mitchell College of Business, double majoring in marketing and management, with concentrations in International Business and Entrepreneurship. His happy to speak to students about their career options. His LinkedIn address is https://www.linkedin.com/in/joelponce