Annual Mitchell Scholars Reception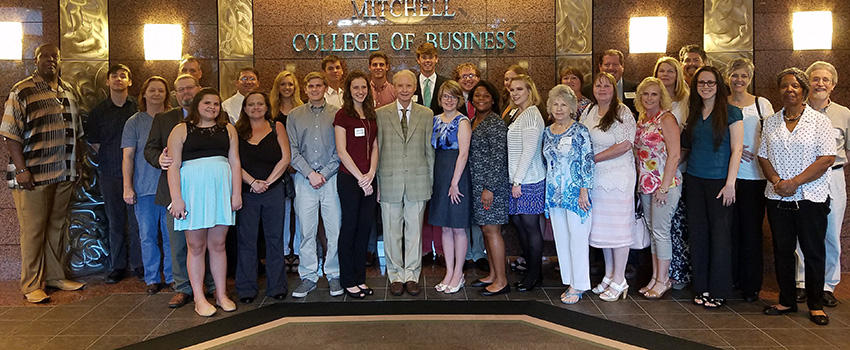 At the annual Mitchell Scholars reception on September 13, Mr. Abraham Mitchell welcomed the largest group of freshmen Mitchell Scholars since the Mitchell Scholarship was endowed in 1999. At the reception parents and students had the opportunity to meet Mr. Mitchell and express their appreciation for the scholarships and his support.
Mr. Mitchell shared words of encouragement for the students and offered fatherly advice, encouraging students to attend class, work hard and to stay focused on the prize, graduation with a degree from the Mitchell College of Business. This annual event allows parents to meet faculty and allows faculty to meet the new class of Mitchell Scholars.
The in-coming Mitchell Scholars are:
Connor Allred, Mobile, Alabama
Amara Baltimore, Meridianville, Alabama
Matthew Cochrane, Semmes, Alabama
Hannah McDuffie, Wilmer, Alabama
Zachary Moore, Deatsville, Alabama
Ian Peek, Andalusia, Alabama
Alvina Pruitt, Heflin, Alabama
Elizabeth Rodin, Pensacola, Florida
Mary Grace Stokley, Saraland, Alabama
Jack Stover, Fairhope, Alabama
Jolie Thompson, Fairhope, Alabama