MCOB Celebrates National Business Women's Week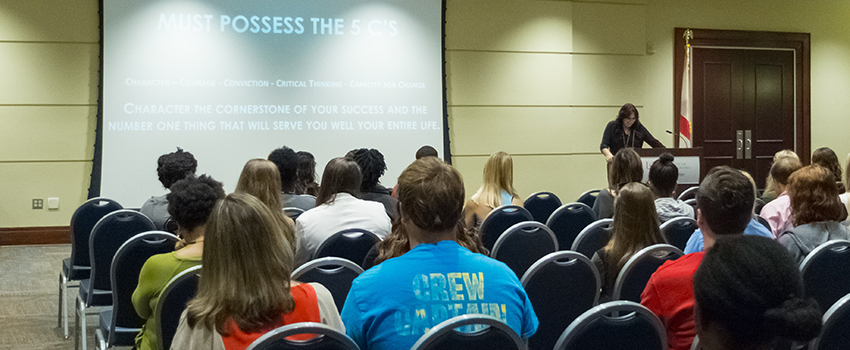 Photo – MCOB Students listen to Sandra Fitzgerald-Angello, Executive Leadership Series Speaker during NBWW
For the third year, MCOB has celebrated National Business Women's Week (NBWW). This year 27 women, representing a wide range of occupations, businesses, and non-profit organizations, spoke to 33 MCOB classes.
Since 1938 National Business Women's Week has officially been celebrated the third full week in October of each year. President Herbert Hoover was the first president to issue a letter recognizing NBWW and the contributions and achievements of workingwomen.
According to the Department of Labor, 57% of women in the U.S. participate in the labor force and 70% of women with children under age 18 are working. In 1948, just over 17 million women were in the labor force and the number of working women has steadily increased to just over 73 million women in 2015, compared to 83,620,000 working men. Through the last century women increasingly attained higher levels of education and earnings as a proportion of men's earnings continues to climb.
NBWW offers an opportunity to bring outstanding business leaders into the classroom to offer advice and insights to our students. We extend special thanks to all the women who donated their time to make the event a success.
Speakers for National Business Women's Week
| | | |
| --- | --- | --- |
| Bobbie S. Bayne | Executive Director | Mobile International Festival |
| Jennifer Busby | Human Resources Manager | SSI Group |
| Cassaundra Burks | Assistant Vice President | East Region Retail Banking, Workplace Solution Office |
| Stacy Cummings, CPA, CFF, CVA | Certified Public Accountant | Wilkins Miller |
| Elizabeth Dexter-Wilson | Entrepreneur/Consultant | Dexter-Wilson Consulting, LLC |
| Mary Caron Downing | Benefits Generalist | Continental Motors |
| Caroline Doyle, LLB | Agent | New York Life Insurance Company |
| Angela Dunn | Associate Director of Planned Giving | USA Office of Development |
| Sandra Fitzgerald-Angello | Vice President and Dealer Operator | Pohanka of Salisbury |
| Sher Graham | Chief Energy Officer | OSBI/Synergy Solutions Worldwide & Toastmasters |
| Jennie Gugliotta | Inside Sales Representative | AT & T Connected Communities |
| Tammy Herrington | Executive Director | Conservation Alabama |
| Elizabeth Hebner | Branch Manager | Regions Bank |
| Kellie Hope | Manager | Southern Light |
| Angel Hughes | Lieutenant | US Coast Guard |
| Terri Lindley | HR Partner | Austal USA |
| Jan McKay | Executive Director | Gulf Coast Exploreum Science Center |
| Makeda Nichols | Insurance Agent | State Farm Insurance |
| Vera M. Reed, CPA, CGMA | Partner, Franchise Services | HORNE LLP |
| Wendy Marie Robertson | General Manager Operations | APM Terminals |
| Karen Cadie Simmons | Operations Manager/Owner | Payroll Vault |
| Karen Sullivan | Senior Vice President | Trustmark Bank |
| Melanie Sumerlin | Purchasing Agent | INEOS Phenol |
| Hayley van Antwerp | Executive Director | Innovation PortAL |
| Ann Waters | Budget Analyst | Austal USA |
| Lee W. Weldon | Associate Director, University Development | University of South Alabama |
| Monique Youree | Senior Insights Manager | Yahoo |