USA Concert Honor Wind Ensemble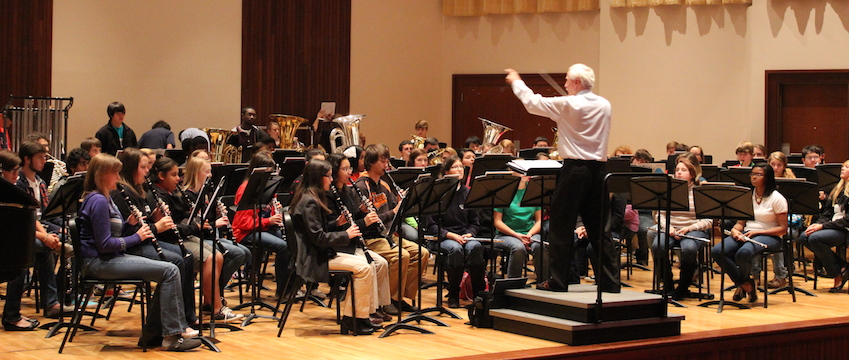 High School Students in Grades 9-12 are Eligible to Apply!
Friday, January 6 - Sunday, January 8, 2017
University of South Alabama Campus
We welcome students in grades 9-12 to apply for the University of South Alabama Concert Honor Wind Ensemble to be held January 6-8, 2017 on the campus of the University of South Alabama! Hosted in the state-of-the-art Laidlaw Performing Arts Center, students will experience a rewarding weekend of music-making with nationally recognized conductor and music educator, David M. McKee, Senior Instructor of Music and Director of Athletic Bands at Virginia Tech, in Blacksburg, VA. Students can apply online beginning on October 15, 2016.
Clinician and Conductor: David M. McKee, Virginia Tech
David McKee is in his thirty-first year at Virginia Tech, where he serves as director of The Marching Virginians and Senior Instructor of Music, conducting the University Symphony Band. A native of Lynchburg, he received his B.M.E. from Shenandoah Conservatory of Music in 1976 and his M.A.Ed. from Virginia Tech in 1986. He joined Virginia Tech as a graduate assistant in 1984 and took over as Director of the Marching Virginians in 1986.
Under his direction, The Marching Virginians have performed throughout the nation for football games, parades and other activities, sharing performances with bands with such schools as the University of Texas, Florida State University, and the University of Tennessee. In addition to a demanding schedule of performances throughout the football season, The Marching Virginians are the model of Ut Prosim serving the university community through nineteen Hokies for the Hungry canned food drives, two collaborative hurricane relief trips to New Orleans with the YMCA Student Programs at Virginia Tech, and countless performances and presentations for public school students in the region. In the spring of 2009, the Marching Virginians partnered with Community Housing Partners to build a home in honor of Ryan "Stack" Clark, a band member and victim of the 2007 campus shooting. Under McKee's guidance, the Marching Virginians Alumni Association has developed into an exceptional source of networking and funding for the Marching Virginians, providing millions of dollars of support to the band. In the fall of 2015, the Marching Virginians opened the new Marching Virginians Center, a collaborative effort by the Department of Athletics, the College of Liberal Arts and Human Sciences, and the support of hundreds of alumni, friends and families of the band.
In addition to directing The Marching Virginians, McKee teaches aural skills and conducts the Symphony Band during the spring semester. Throughout the nation he is an active guest conductor, clinician, and advocate for music education in the public schools. At the 2007 Virginia Music Educators Association Conference in Norfolk, he served as a percussionist, orator, and conductor within the span of forty-eight hours. In 2005, Mr. McKee was awarded a Certificate of Teaching Excellence by the College of Liberal Arts and Human Sciences. He is a member of the ACC Band Directors Association, past-president of the Big East Band Directors Association and has served on the Athletic Band Advisory Committee of the College Band Directors National Association. He and his wife, Charlotte, celebrated their fortieth anniversary in the summer of 2016. They are the proud parents of three adult children.
Audition Process
Students currently in grades 9-12 can apply online beginning October 15, 2016 through a registration link on the Department of Music website. All students must provide a web link to their audition etude excerpt performed on video/audio through (this can be through Dropbox, YouTube, or Google Drive).
The audition material for wind instrumentalists will be the Alabama 2017 All-State Senior High Lyrical Etude (Series A HSL) for your particular instrument (Flute, Oboe, Bassoon, Bb Clarinet, Low Clarinet, Saxophones, Trumpet, Horn, Trombone, Euphonium (TC/BC), Tuba, and String Bass). A minimum 30 second excerpt from the selected etude is required (please state measure numbers in your recording).
Percussionists should prepare two minimum 30 second excerpts from two of the three 2017 Alabama All State HS Exercises for Percussion (any combination of Snare, Mallet, and Timpani). A minimum 30 second excerpt of each selected etude is required (please state measure numbers in your recording).
You can find the Alabama All-State exercises online here.
In your recording, you should clearly state the following 1) Your Name 2) Your High School 3) Your Instrument
Applications will be accepted through Monday, December 5, 2016.
Students will be notified of their status on Friday, December 9, 2016.
Students auditioning are encouraged to make use of the 2017 Alabama All-State Preparation Podcasts provided by the USA Music faculty, which will be available here.
Honor Wind Ensemble Features
• Instruction by nationally recognized clinician and masterclasses by USA faculty
• Honor Wind Ensemble Medal
• Honor Wind Ensemble T-shirt
• Saturday Night Dinner Provided
• Host Concert provided by the University of South Alabama Wind Ensemble and more!
• Honor Wind Ensemble Finale Concert
Costs
There is no cost to apply for the University of South Alabama Concert Honor Wind Ensemble. Students who are selected for this event will pay a $40.00 registration fee. This registration fee covers the costs of all features and activities.
Schedule
Friday, January 6, 2017

3:00 PM-4:00PM - Registration Open (Lobby of the Laidlaw Performing Arts Center)

Accepted students will be assigned a part placement audition time
Placement auditions will consist of scales and sight reading
Warm-up areas will be available

6:30 PM - Welcome and orientation meeting (Laidlaw Recital Hall)
6:50 PM - Seating Placement audition results posted.

Honor Wind Ensemble - Laidlaw Recital Hall Stage

7:15 PM - Rehearsal for Honor Wind Ensemble on Stage
9:30 PM - Rehearsal complete.

Students must depart for hotels or local residences.
Chaperones and band directors in attendance are responsible for students.
Secure areas will be made available for storage of instruments.

Saturday, January 7, 2017

7:15 AM - Laidlaw open for students wishing to warm-up or practice
7:55 AM - All student participants should be seated in their ensemble, warming up
8:00 AM - Rehearsal

Honor Wind Ensemble - Laidlaw Recital Hall Stage

11:45 AM - Lunch Break (on your own)
1:30 PM - Masterclasses with University of South Alabama faculty
2:45 PM - Snack Break (provided)
3:00 PM - Rehearsal

Honor Wind Ensemble - Laidlaw Rehearsal Hall

5:30 PM - Banquet Dinner with Department of Music Faculty (provided, in Laidlaw Performing Arts Center Rehearsal Hall)
7:30 PM - Host Concert by the University of South Alabama Wind Ensemble (Laidlaw Recital Hall)
9:15 PM - Concert complete.

Students must depart for hotels or local residences.
Chaperones and band directors in attendance are responsible for students.
Secure areas will be made available for storage of instruments.

Sunday, January 8, 2017

8:00 AM - Laidlaw open for students wishing to warm-up or practice
8:55 AM - All Honor Wind Ensemble participants must be seated on Recital Hall stage, warming up
9:00 AM - Honor Wind Ensemble dress rehearsal on stage
11:00 AM - Honor Wind Ensemble dismissed
11:00 PM - Lunch Break (on your own)
12:30 PM - Report Time for Finale Concert
1:00 PM - Finale Concert (Laidlaw Recital Hall)