USA Concert Honor Wind Ensemble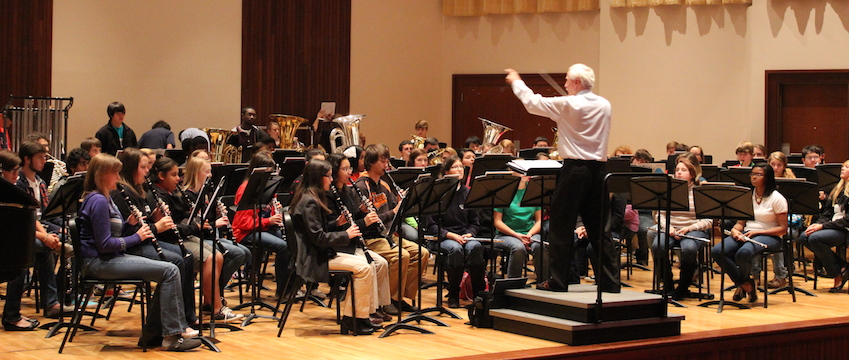 High School Students in Grades 9-12 are Eligible to Apply!
Friday, April 27 - Sunday, April 29, 2018
University of South Alabama Campus
We welcome students in grades 9-12 to apply for the University of South Alabama Concert Honor Wind Ensemble to be held April 27-29, 2018 on the campus of the University of South Alabama! Hosted in the state-of-the-art Laidlaw Performing Arts Center, students will experience a rewarding weekend of music-making with nationally recognized conductor and music educator, Joseph Parisi, Associate Director of Bands and Professor of Instrumental Music Education at the University of Missouri at Kansas City's Conservatory of Music and Dance. Students can apply online beginning on February 1, 2018.
Clinician and Conductor: Joseph Parisi, UMKC
Joseph Parisi is a professor at the UMKC Conservatory of Music and Dance where he conducts the Conservatory Wind Ensemble and serves as a music education and conducting faculty member. During the 2017–18 academic year, he is serving UMKC as Director of the Interdisciplinary PhD Program. Recognized as one of the most well-rounded faculty members at UMKC, Parisi has amassed an impressive career as a conductor, performing artist, pedagogue, and scholar. He has made professional appearances both nationally and abroad conducting music festivals, adjudicating ensembles, presenting clinics, research, lectures and workshops throughout the United States, Canada, Europe, United Kingdom, and China.
As Parisi embarks on his 16th year at UMKC, he continues to collaborate with many outstanding artists and composers, commission new works, and perform throughout the world. Recognized as one of America's outstanding brass conductors, Parisi is the principal conductor of Summit Brass at the Rafael Méndez Brass Institute (www.mendezbrassinstitute.com) and Fountain City Brass Band (www.fcbb.net). Both groups have a rich and distinguished history of outstanding brass playing, and under Parisi's leadership, Fountain City Brass Band leads the United States as one of the world's top brass bands. Parisi has been recognized numerous times with the Brass Band Conductor of the Year Award, and received the winning conductor award at the Scottish Open Championship. Fountain City will return to the U.K. in 2017 to perform at Brass in Concert in Gateshead and the Scottish Open Brass Band Championship in Perth. Fountain City Brass Band's latest recording, Celtic Impressions, has received wide-spread praise for its ensemble precision, excitement, and musicality.
Parisi completed a bachelor's degree in music education at the State University of New York at Potsdam (Crane School of Music); a master's degree in trumpet performance from Florida State University and a PhD in instrumental conducting/music education from Florida State University. While at the UMKC Conservatory, Parisi has won numerous awards including the Kauffman Outstanding Service Award, the Kauffman Excellence in Teaching Award, and the Kauffman Award for Outstanding Research and Creative Activity.
Audition Process
Students currently in grades 9-12 can apply online beginning February 1, 2018 through a registration link on the Department of Music website. All students must provide a web link to their audition etude excerpt performed on video/audio through Dropbox, YouTube, or Google Drive.
The audition material for wind instrumentalists will be the Alabama 2018 All-State Senior High Lyrical or Technical Etude (Series B HSL or Series B HST) for your particular instrument (Flute, Oboe, Bassoon, Bb Clarinet, Low Clarinet, Saxophones, Trumpet, Horn, Trombone, Euphonium (TC/BC), Tuba, and String Bass). A minimum 30 second excerpt from the selected etude is required (please state measure numbers in your recording).
Percussionists should prepare two minimum 30 second excerpts from two of the three 2018 Alabama All State HS Exercises for Percussion (any combination of Snare, Mallet, and Timpani). A minimum 30 second excerpt of each selected etude is required (please state measure numbers in your recording).
You can find the Alabama All-State exercises online here.
In your recording, you should clearly state the following 1) Your Name 2) Your High School 3) Your Instrument
Applications will be accepted through Monday, March 12, 2018.
Students will be notified of their status on Monday, March 19, 2018.
Students auditioning are encouraged to make use of the 2018 Alabama All-State Preparation Podcasts provided by the USA Music faculty, which will be available here.
Concert Honor Wind Ensemble Features
• Instruction by nationally recognized clinician and masterclasses by USA faculty
• Honor Wind Ensemble Medal
• Honor Wind Ensemble T-shirt
• Saturday Night Dinner Provided
• Host Concert provided by the University of South Alabama Wind Ensemble and more!
• Honor Wind Ensemble Finale Concert
Costs
There is no cost to apply for the University of South Alabama Concert Honor Wind Ensemble. Students who are selected for this event will pay a $40.00 registration fee. This registration fee covers the costs of all features and activities.
Tentative Schedule
Friday, April 27, 2018

3:00 PM-4:00PM - Registration Open (Lobby of the Laidlaw Performing Arts Center)

Accepted students will be assigned a part placement audition time
Placement auditions will consist of scales and sight reading
Warm-up areas will be available

6:30 PM - Welcome and orientation meeting (Laidlaw Recital Hall)
6:50 PM - Seating Placement audition results posted.

Honor Wind Ensemble - Laidlaw Recital Hall Stage

7:15 PM - Rehearsal for Honor Wind Ensemble on Stage
9:30 PM - Rehearsal complete.

Students must depart for hotels or local residences.
Chaperones and band directors in attendance are responsible for students.
Secure areas will be made available for storage of instruments.

Saturday, April 28, 2018

7:15 AM - Laidlaw open for students wishing to warm-up or practice
7:55 AM - All student participants should be seated in their ensemble, warming up
8:00 AM - Rehearsal

Honor Wind Ensemble - Laidlaw Recital Hall Stage

11:45 AM - Lunch Break (on your own)
1:30 PM - Masterclasses with University of South Alabama faculty
2:45 PM - Snack Break (provided)
3:00 PM - Rehearsal

Honor Wind Ensemble - Laidlaw Rehearsal Hall

5:30 PM - Banquet Dinner with Department of Music Faculty (provided, in Laidlaw Performing Arts Center Rehearsal Hall)
7:30 PM - Host Concert by the University of South Alabama Wind Ensemble (Laidlaw Recital Hall)
9:15 PM - Concert complete.

Students must depart for hotels or local residences.
Chaperones and band directors in attendance are responsible for students.
Secure areas will be made available for storage of instruments.

Sunday, April 29, 2018

8:00 AM - Laidlaw open for students wishing to warm-up or practice
8:55 AM - All Honor Wind Ensemble participants must be seated on Recital Hall stage, warming up
9:00 AM - Honor Wind Ensemble dress rehearsal on stage
11:00 AM - Honor Wind Ensemble dismissed
11:00 PM - Lunch Break (on your own)
12:30 PM - Report Time for Finale Concert
1:00 PM - Finale Concert (Laidlaw Recital Hall)