ACT Summer Institute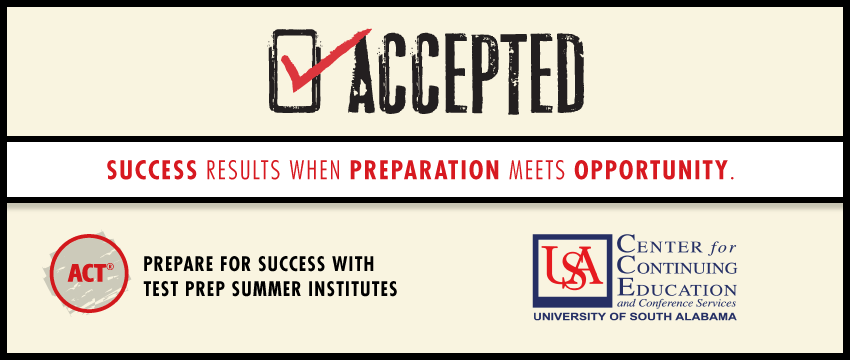 The ACT Summer Institute at USA is here to help you achieve your academic goals for college admission and scholarship opportunities with success on the ACT.
Program Overview
The ACT Summer Institute at USA consists of 20 hours of classroom instruction covered in an intensive one-week format. The Summer Institute features instruction from an ACT test preparation expert and extensive online review tools. Our comprehensive program focuses on not only subject matter, but other components that lead to test taking success, including Test Taking Strategies, Question Formats, Math, English, Reading Comprehension, and Science Reasoning.
Through the ACT Summer Institute you will receive an in-depth review of exam materials, insight into strategies for succeeding on standardized tests, and a comprehensive study plan. Class sessions use real test questions to show you exactly how these skills are tested. Your registration fee includes all classroom and online sessions along with your course materials.
Students participating in the ACT Summer Institute also receive access to online review sessions and open office hours in the time leading up to the fall test dates.
Topics Covered
The ACT Summer Institute covers the following topics:
MATH
Practice techniques for selecting numbers for problems containing variables
Learn efficient approaches to complicated multi-step problems
Discover tactics for translating difficult word problems into equations
ENGLISH
Identify correct idiomatic speech in sentence correction problems
Understand the basic concepts of rhetorical construction
Learn which grammar errors are most frequently tested
READING
Understand which part of the passage to read for reading comprehension questions
Recognize the difference between global and local test items
Identify passages written from the journalistic and engaged perspectives
SCIENCE
Identify parameters for test items involving graphs and charts
Interpolate or extrapolate answers from data given in tables
Recognize the point of an experiment in research summary items
GENERAL TEST TAKING STRATEGIES
Use the process of elimination
Master time management skills
Minimize test anxiety
Identify common distracters
Additional online review tools to help you perform at your peak!

The ACT Summer institute includes online tools to help you perform at your peak on exam day. Four online review sessions are held in the weeks leading up to the fall ACT exam dates. Online office hours provide a convenient way for students to address specific questions or concerns they may have. Student need only have high speed access to the internet, speakers, and Adobe Flash Player to participate in the online sessions - no additional software required.

The interactive one-hour online review sessions allow students to participate and ask questions of our expert test prep instructors. The live online review sessions are also recorded - students can still benefit even if their schedule doesn't allow live participation. Review sessions will follow the schedule of the Summer Institute.

Online office hours are open to any student in an ACT Summer Institute. Instructors will be on hand to answer any questions. The "drop in" sessions are student-directed; meaning there will not be a planned presentation each session. Our instructors will answer questions and work through problems in the order they are received.

Online Review System Requirements

All that is needed to participate in the live-online test prep class is access to high speed internet on a computer with speakers (or headphones) and Adobe Flash Player version 11.2 or higher, which can be downloaded for free.

Download the latest Adobe Flash Player (free) here.
Check your system's compatibility here. (Students should download the Add-In for best classroom experience.)
Download the Adobe Connect participant guide here for assistance using Adobe Connect.