Globe Grand Lobby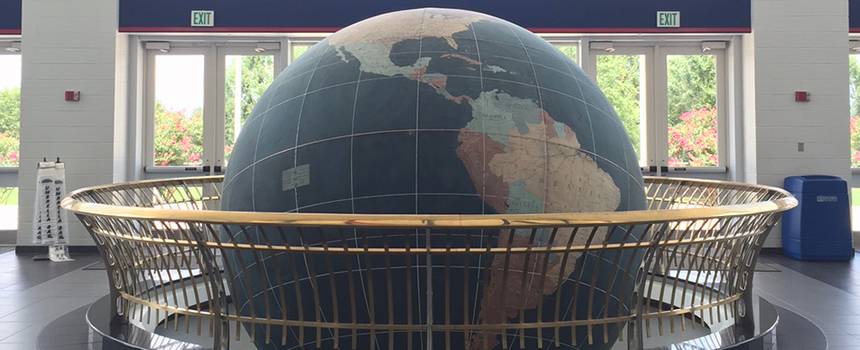 Venue Information
The Globe Grand Lobby is the perfect space to host an array of smaller-sized events. This space has been used to accommodate receptions, banquets, fashion shows, exhibitions and press conferences.
With the floor-to-ceiling windows providing natural light, this space is the number-one pick for a midday reception or exhibition. During an evening event, the North Exterior Plaza provides an amazing backdrop showcasing the University of South Alabama's Jaguar statue.
The Globe Grand Lobby can accommodate up to 180 guests, seated, in banquet configuration and approximately 500 guests for receptions.
▼ The Waterman Globe and the History Behind
The Waterman Globe first rested in the Waterman Building (now SouthTrust Bank) from 1948 through 1973 and was a major attraction in downtown Mobile.
Rand McNally Map Company painted the original aluminum exterior of the 12-foot diameter globe, which depicts countries as they were in the 1940's. The reconstructed globe rotates once every three minutes and 50 seconds. The globe's axis is identical to the Earth's.
The Waterman Globe was part of a total display of painted murals until it was cut into 300 pieces of scrap. Former USA President Frederick P. Whiddon saved the globe and stored it for more than 20 years, anticipating its restoration.
USA engineering technician Lanny McCormick completed the arduous task of reconstructing the globe in 1996. Local artist Joe Wilson worked as a modern-day Michelangelo, lying on his back at the globe's new home in the Mitchell Center to restore the paint.
The railing around the globe is original, augmented by new vertical brass safety bars. The globe's steel base was recycled from an USA campus soccer goal.
The globe made its second Mobile debut at the May 1999 USA Spring Commencement, which marked the opening of the Mitchell Center. The University is proud to bring this Mobile landmark back to life.
▼ Policies and Procedures
The Mitchell Center prohibits the following:
Alcoholic beverages and illegal substances
Weapons or potentially dangerous items
Flammable materials and incendiary devices of any kind
Hazardous chemicals or materials
Backpacks, large bags, coolers
Bottles, cans, projectiles or compressed gas
Artificial noisemaking devices such as air horns, whistles, etc
Laser pointers
The use of tobacco products
Outside food or drinks
Video or audio recording devices
Camera policy varies by event
Animals (working animals only are permitted inside the facility)
Mitchell Center reserves the right to search all persons and bags entering or exiting the building. Mitchell Center will not be held responsible for items missing, stolen, damaged or lost. Ejection from the Mitchell Center may result if you fail to comply with these policies.
Confiscated items will not be returned.
Re-Entry Policy
There is no re-entry into the Mitchell Center. This information is printed on each ticket and is displayed on every door.
▼ Rates
| | |
| --- | --- |
| Non-University Rental Rate | $475 (first 4 hours) + $100 each additional hour |
| University Rental Rate | $200 (first 4 hours) + $50 each additional hour |