Alabama Banking School Holds 37th Commencement at USA
---
Posted on July 25, 2014 by Jeb Schrenk
Jeb Schrenk
---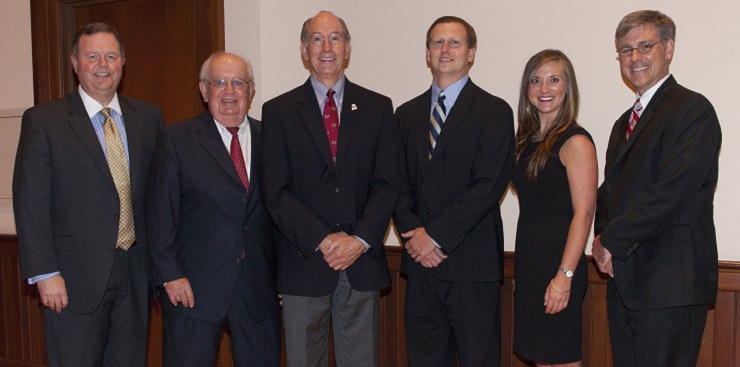 The Alabama Banking School, held at the University of South Alabama and sponsored by the Alabama Bankers Association, held its graduation Friday at USA's Laidlaw Performing Arts Center. From left, Scott Latham, president and CEO of the Alabama Bankers Association; Dr. Carl Moore, retiring dean of the USA Mitchell College of Business; Young Boozer, treasure of the state of Alabama; class valedictorian Jason Davis, senior manager with Jackson Thornton; class salutatorian Lauren Yelverton, staff accountant with Mauldin & Jenkins LLC; and John Naughton, director of the Alabama Banking School and a commercial lender with First Community Bank in Mobile.
---


The University of South Alabama hosted the Alabama Banking School this week. Thirty-nine participants graduated Friday at a commencement ceremony at Laidlaw Performing Arts Center.

Nearly 150 bankers and certified public accountants were in Mobile this week to participate in the three-year program, which offers courses to give students a well-rounded view of banking operations. Participants range from entry-level tellers to executive officers. Courses cover topics including commercial lending, human resources, funds management and general accounting theory, among others.

Friday was the banking school's 37th commencement. Alabama Treasurer Young Boozer delivered the keynote address.


One-quarter of the school's instructors are faculty from USA's Mitchell College of Business. Other instructors include senior-level professionals in the banking industry, bank regulators and accounting professionals.

The Alabama Banking School is sponsored by the Alabama Bankers Association.
---
Latest University News
For people who flew around the world in a private jet, alumni Julian a...

Dr. James Davis, professor of chemistry, has been accepted as a fellow...

The goal of ARM, a collaboration in industrial robotics and workforce ...

South professors will hold a free concert on June 23 at the Laidlaw Pe...