USA Announces Winners of the Protect America Pay it Forward Challenge
---
Posted on May 23, 2014 by Joy Washington
Joy Washington
---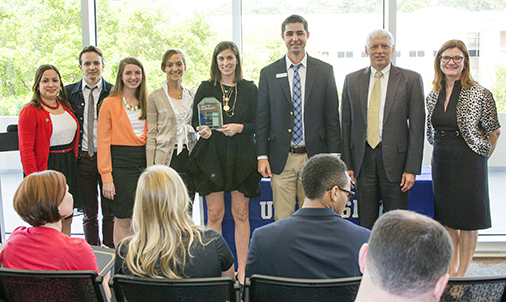 Mobile, Alabama -The University of South Alabama department of communication students partnered with Protect America, a national home security company by providing advertising and public relations services to non-profit organizations. The student advertising agency Odd Goat won the overall award for the Best Public Relations and Advertising Campaign.
Odd Goat provided public relations and advertising services for the Mulherin Home with the theme project, "Anchored by Love." The overall award winning team also won Outstanding Presentation and Outstanding Promotion of Agency awards.
The department of communication students presented their work in a Protect America Pay it Forward Challenge event recently at the USA Student Center. USA was one of only three universities in the nation selected to participate in the program.
Protect America and students in the USA department of communication worked with charities in Mobile in an innovative program, the Pay it Forward challenge for four months during the spring semester at the University.
"We are honored to have been selected by Protect America," Nadia Bush, USA communication instructor said. "This is an opportunity for our students to participate in this creative program to support non-profits in our community. It has been life changing and inspiring for students, faculty and the charities involved."
The Pay it Forward challenge is a philanthropic campaign funded and created by Protect America to aid local charities in university communities. USA communication students, under the direction of Bush and Dr. Patricia Mark, associate professor of communication at USA and Protect America's marketing staff, are tasked with creating design work, a social media strategy, public relations, advertising, or any communication tasks needed by the charities.
"In the USA department of communication, we strive to make sure our students have real-world work experiences" Mark said. "It's important that they are prepared to be competitive in the field of communication once they graduate from the University."
Protect America strives to improve the quality of home and life. The company wishes to help the next generation of communication professionals while aiding charities and non-profits around the country.
"The benefit is two-fold," said Protect America Vice President of Marketing Melissa Walker. "Charities, who might not otherwise be able to afford it, receive help with their creative and communication needs. Communication students at the University of South Alabama have always sought to help the community of Mobile and those in need when given the opportunity, and we're delighted to join them in doing so."
The department of communication is in the USA College of Arts and Sciences. Other USA student and Protect America agency award recipients are the following:
Outstanding Creative, Outstanding Video: Delta Advertising Agency, Alabama Coastal Foundation, the project theme, "Base Roots."
Outstanding Advertising: CP+B Square, McKemie Place, the project theme, "McKemie Matters."
Outstanding Public Relations: Hermes Group, The Learning Tree, the project theme, "Learning to Grow."
Outstanding Promotion of Agency: Odd Goat Agency, same information as above
Outstanding Campaign Book: JBrand Agency, Wounded Warrior Project, the project theme, "Never Leave a Man Behind."
---
Latest University News
For people who flew around the world in a private jet, alumni Julian a...

Dr. James Davis, professor of chemistry, has been accepted as a fellow...

The goal of ARM, a collaboration in industrial robotics and workforce ...

South professors will hold a free concert on June 23 at the Laidlaw Pe...