USA Physician Assistant Students Receive Scholarships
---
Posted on January 21, 2015 by Joy Washington
Joy Washington
---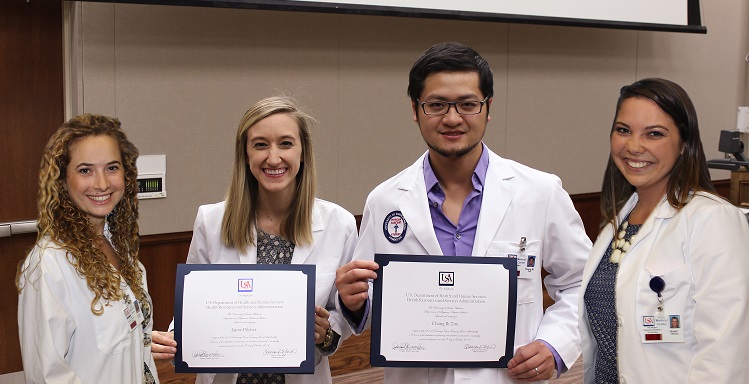 From left are USA Physician Assistant Student Scholars Emilija McNulty, Jaime Pilcher, Chang Bi Zou, and Sarah Bentley.
---
University of South Alabama physician assistant studies students in the Pat Capps Covey College of Allied Health Professions received scholarships during a recent open house.
Four students received the $5,000 disbursement of the Health Resources and Services Administration, HRSA, Primary Care Training Grant Scholarship, and one student received the $1,250 Parker Family Physician Assistant Studies Endowed Scholarship.
The HRSA, scholarship recipients are Emilija McNulty, graduate student, St. Petersburg, Fla.; Jaime Pilcher, graduate student, Selma, Ala.; Chang Bi Zou, graduate student, Pell City, Ala.; and Sarah Bentley, graduate student, Lawrenceville, Ga., The Parker Family scholarship recipient is Chasity Gibson of Phenix City, Ala.
In 2012, the USA department of physician assistant studies received a Health Resources Services Administration primary care training grant. The five-year grant is part of President Barak Obama's administration's initiative to increase the supply of primary care practitioners in the United States.
Funding priority was given to grantees that encourage strong recruitment, retention, and education programs for veteran applicants and students, including academic recognition of medical training and experience during military service. The department of physician assistant studies at USA also received its first endowed scholarship due to the generosity of Pensacola, Fla., residents Dr. Ron Parker and his wife Nancy.
The scholarship was created to give back to deserving students in their pursuit of becoming a physician assistant health care professional. It was also given to decrease the PA workforce shortage in the USA service area.
For more information about the department of physician assistant studies at USA, contact cherylnicholls@southalabama.edu.
---