USA National Alumni Association Honors Distinguished Service and Alumni Award Recipients at Gala
---
Posted on March 4, 2015 by Joy Washington
Joy Washington
---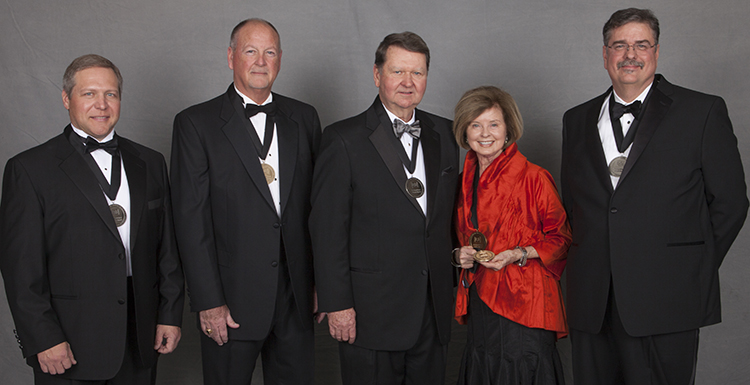 The University of South Alabama National Alumni Association honored five people Thursday evening at the 2015 Distinguished Alumni and Service Awards Dinner held in the Mitchell Center. Accepting the awards, from left, are: Greg Gabel, Distinguished Alumni Award; W. Andrew "Andy" Denny, Distinguished Service Award; Daniel Grafton, Distinguished Alumni Award; Geri Moulton for the late President Emeritus Gordon Moulton, Moulton Distinguished Service Award; Warren Nicholson, Distinguished Alumni Award.
---
The University of South Alabama National Alumni Association honored three distinguished alumni and two service leaders for notable achievements at its annual awards gala on Thursday, March 5, at the Mitchell Center. Tickets sold out for the event, which began with cocktails at 6 p.m. at the Waterman Globe, followed by dinner.
"The best measure of a great university can be found in the success and achievements of its alumni and supporters," USA President Tony G. Waldrop said prior to the event. "We are grateful to honor these outstanding individuals who represent our mission of academic success and service."
This year's recipients of the Distinguished Alumni Award were Greg Gabel, '89, MBA '98, refinery general manager of Chevron USA's plant in Salt Lake City, Utah; Daniel Grafton, '75, retired president and CEO of L-3 Communications Vertex Aerospace, formerly Raytheon Aerospace Company; and Warren Nicholson, '82, MSEE '89, CEO and founder of Nfina Technologies, Inc.
The first Moulton Distinguished Service Award was announced posthumously for USA President Emeritus V. Gordon Moulton, and his wife, Geri, accepted. Moulton served as USA's second president for 15 years. He retired in 2013, shortly before his death. A Distinguished Service Award was presented to W. Andrew "Andy" Denny, '72, M. Ed. '74, owner and founder W. Andrew Denny & Company Inc.
"This event recognizes the achievements and contributions of alumni, advocates and donors for USA," said Director of Alumni Relations Karen Edwards. "It's important that we honor those who are committed to advancing USA's values and mission, and we look forward to this event each year."
The University of South Alabama National Alumni Association was founded in 1974 with a mission to support and positively influence the goals of the University through an active relationship with the University, its alumni, students and friends. It exists to provide support to the University. The vision of the USA National Alumni Association is to provide comprehensive programs, services and resources to benefit the University, its alumni, students and friends.
USA enrolls 16,000 students and has awarded 80,000 degrees. The number of alumni in USA's history totals more than 67,000.
For more information, call the USA Office of Alumni Relations at (251) 460-7084.
---
Latest University News
For people who flew around the world in a private jet, alumni Julian a...

Dr. James Davis, professor of chemistry, has been accepted as a fellow...

The goal of ARM, a collaboration in industrial robotics and workforce ...

South professors will hold a free concert on June 23 at the Laidlaw Pe...