USA Concert Choir to Perform with Mobile Symphony
---
Posted on March 13, 2015 by Joy Washington
Joy Washington
---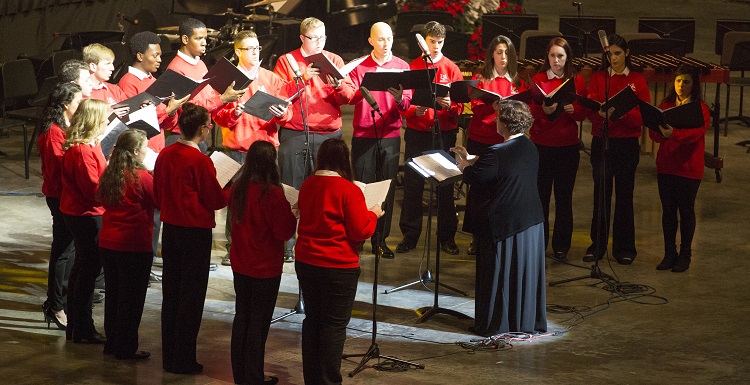 The USA Concert Choir, shown here at the USA Holiday Concert, will perform with the Mobile Symphony March 21 and 22 at the Saenger Theatre.
---
The Mobile Symphony once again welcomes the University of South Alabama Concert Choir to the stage in "From Tragedy to Triumph," March 21 and 22 at the Saenger Theatre.
This event is sponsored by USA. Performances are Saturday, March 21 at 8 p.m. and Sunday, March 22 at 2:30 p.m. in the historic Saenger Theatre in downtown Mobile. Tickets range from $20-$65. Students K-12 may attend the Sunday matinee for free when accompanied by one paying adult through the MSO's Big Red Ticket Program, underwritten by the Alabama Power Foundation. College students can purchase tickets for $10 with valid college identification.
USA students who will be singing at the performance feel fortunate to be able to collaborate with the Mobile Symphony Orchestra. According to USA Director of Choral Activities Dr. Laura Moore in the department of music, which is in the College of Arts and Sciences at the University, this will be their fourth performance in the past five years of a major choral-orchestral work with the symphony.
"This performance allows the students to sing repertoire we could never produce at the University because of space and cost limitations. This event also enables our students to see the inner workings of one of the great professional arts organizations in the city," Moore said. "Maestro Scott Speck and all the staff at the Symphony are professional and generous, and truly encourage and inspire our students to excellence."
In this fifth Classics Concert of the Mobile Symphony season, the MSO will continue to explore the tone poems of Richard Strauss, as well as works by another German master, Johannes Brahms.
"Our audience will remember how the musicians of the MSO tore into the opening of Don Juan," Scott Speck, MSO music director said, "and personified the hilarious high jinks of Till Eulenspiegel. Now we depict the final moments of life, and the transformation to another plane of existence, as created by the brilliant imagination of Strauss, with Death and Transfiguration."
"I've been wanting to work with the Concert Choir again after their star turns in Beethoven's Ninth, Carmina Burana, and Alexander Nevsky," Speck said. "Director Laura Moore has agreed to prepare them for the Song of Destiny, which is absolutely quintessential Brahms!"
"One of the important things we try to do at the Mobile Symphony is collaborate with other institutions in our area," Celia Mann Baehr, president/CEO of the Mobile Symphony said. "This is by far one of our favorite collaborations. We are so grateful to Laura Moore and the USA Concert Choir, and to the University in general for their support and partnership."
Tickets can be purchased by calling the MSO box office at (251) 432-2010, in person at 257 Dauphin Street or online at www.mobilesymphony.org.
---