USA Senior Medical Students Celebrate Residencies at Match Day 2015
---
Posted on March 20, 2015 by Robin Johns
Robin Johns
---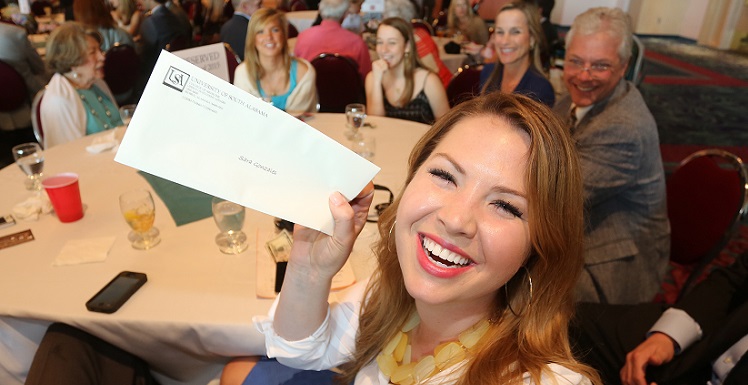 Sara Gonzales holds her envelope as she waits to find out where she matched during the University of South Alabama College of Medicine's Match Day event March 20, 2015, at the Arthur R. Outlaw Mobile Convention Center.
---
More photos from USA College of Medicine's 2015 Match Day.
---
Senior medical students at the University of South Alabama gathered March 20 at the Mobile Convention Center to find out this year's Match Day results and the next step in their medical training.
The National Residency Matching Program, or Match Day, is the annual event in which future doctors across the United States and Canada simultaneously learn where they will be doing their residency training. The graduating medical students simultaneously opened their envelopes with their assigned matches at 11 a.m.
"Match Day is an important day in the life of a medical student," said Susan LeDoux, Ph.D., associate dean of medical education and student affairs. "This year, as in the past, we are extremely proud of our students' successes in securing excellent residency positions. Their success reflects years of hard work on their part and also speaks to the quality of the educational training provided to them here in the USA College of Medicine."
The Match works like this. After interviewing with several different residency programs - both near and far - students provide a ranking of their top-choice programs in order of preference. The training programs, in turn, rank the students who interviewed. The NRMP matches applicants' preferences for residency positions with program directors' preferences for applicants. Each year, thousands of medical school seniors compete for approximately 24,000 residency positions across the United States.
This year, the USA College of Medicine seniors matched in 18 different states. There were 45 students who matched out-of-state and 29 students who matched in the state of Alabama, with 17 of those students matching at USA Hospitals.
Alonso Heudebert, a fourth-year medical student at USA, is following in his father's footsteps. His father is a professor of internal medicine at the University of Alabama at Birmingham.
Heudebert was born and raised in Birmingham. He earned a bachelor's degree in philosophy from the University of Alabama and then returned to Birmingham where he earned a master's degree in public health before pursuing medical school at USA.
"Medicine, to me, is one of the noblest professions that someone can aspire to do. It is enriching in its service orientation, humbling in its complexity, challenging in what it requires of us and bathed in the warm glow of humanity," said Heudebert. "I couldn't imagine doing anything else with my life."
Heudebert said his clinical experience at USA has made the biggest impact on him. "Being mentored by such a dedicated, intelligent and friendly group of people was a remarkable experience that I can only hope to encounter in my residency."
Heudebert matched in internal medicine at Barnes-Jewish Hospital, Washington University, located in St. Louis. "I have put in a lot of hard work these past four years," he said. "I think this will be a great place to train, and I am excited for this new opportunity."
Christopher Hoffman, a fourth-year medical student from Tuskegee, Ala., first became interested in medicine during an elementary school career fair. "I was asked the famous question of 'What do you want to be when you grow up?,'" said Hoffman. "After brainstorming different careers, I replied with 'a doctor' and the idea grew on me from there."
Hoffman has been given much support from his family, friends and his community back home. "Being the only person from my community working toward a medical degree, I was given a lot of support," said Hoffman. "My mother played an important role in where I am today and even though she wasn't able to see me get into medical school, memories of her actions continue to motivate me."
Hoffman had challenges throughout medical school, but he believes it made him stronger. "I am excited to discover new places and begin my career as a physician," he said.
Hoffman matched in psychiatry at Morehouse School of Medicine located in Atlanta. "I am ecstatic! This was my number one choice, and I am extremely happy with my match," said Hoffman.
The NRMP also allows couples to form pairs of choices on their rank order lists. The couple then matches to the most preferred pair of programs on the rank order lists where each partner has been offered a position. USA medical students William Tucker and Megan Hudson are engaged and matched as a couple.
Tucker and Hudson met during their first year of medical school. "Megan and I were good friends from early on," said Tucker. "We started dating toward the end of our second year."
Tucker, from Mobile, said he always knew he wanted to go to medical school. "There are many physicians in my family, including my dad, a pathologist here at USA; my uncle, who is an orthopedic surgeon; and my grandfather, who is a retired pediatrician," Tucker said. "This provided much of my drive throughout medical school, and I feel that going to USA gave me an incredible hands-on experience that was invaluable."
Hudson will be the first physician in her family. She grew up in Decatur, Ala., and earned a bachelor's degree from Emory University in Atlanta.
"Biology and human health initially sparked my interest in medicine in high school and throughout my undergraduate education," said Hudson. "The training I have had here at USA has been unique because of the smaller class size, but I feel as though there would be no better place to train."
"Match Day is exciting because it is not only a culmination of four years of hard work, but it is also an opportunity to begin a new adventure with William," Hudson added.
Hudson matched in pediatrics at Children's Mercy Hospital at the University of Missouri- Kansas City, located in Kansas City, Mo. Tucker matched in orthopaedic surgery at the University of Kansas School of Medicine, located in Kansas City, Kan.
"We are relieved," said Tucker. "This has been a long process, but we both got where we wanted and are excited to spend the next several years together."
The USA Heath System currently has 74 senior medical students and 11 residency programs. This year, there are 67 residency positions at USA - the large majority of which will be filled through the matches.
---