In Historic Ceremony, Graduates Told of Responsibility to Serve and Stand for Justice
---
Posted on May 9, 2015 by Alice Jackson
Alice Jackson
---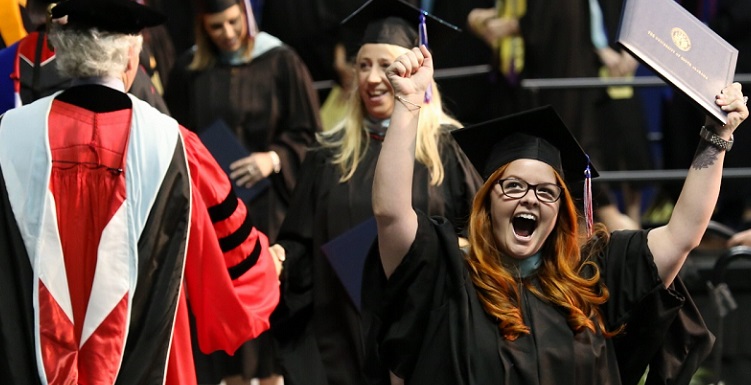 The University of South Alabama held two commencement ceremonies on Saturday, May 9, 2015, at the USA Mitchell Center. USA traditionally held one ceremony but split it in two to handle the increasing number of students, family and friends. The two commencement speakers were, pictured below from left, Dr. Richard Lapchick, internationally recognized sports sociologist, and U.S. Secretary of the Navy Ray Mabus.
---
In an historic move that allowed more family members and friends to watch the awarding of degrees to 2,000 candidates, the University of South Alabama held two commencement ceremonies on Saturday in the Mitchell Center.
Dr. Richard Lapchick, an internationally recognized sports sociologist often described as "the racial conscience of sport," addressed graduates at the 9:30 a.m. ceremony. U.S. Secretary of the Navy Ray Mabus was the guest speaker for the 2 p.m. ceremony. Both men were awarded an honorary doctorate of humane letters degree.
"That honorary degree now makes me a fellow graduate with each of you, and we have a lot of work to do in the future in how we want to help this society," Lapchick said. "Be somebody who stands up for leadership and justice and who doesn't stand in the way of either one."
Lapchick, who has a bachelor's degree from St. John's University and a doctorate from the University of Denver, is a regular columnist for ESPN.com and "The Sports Business Journal." He has written more than 550 articles and given more than 2,800 public speeches, including to the U.S. Congress, at the United Nations and in the European Parliament. He is presently writing his 17th book.
A faculty member at the University of Central Florida, Lapchick urged the graduates to think about and honor the importance of diversity and inclusion in their futures as they develop their work and personal lives. He shared his story of going repeatedly to Louisiana following Hurricane Katrina to help rebuild the devastated Ninth Ward of New Orleans, declaring it "a transformative experience." He stressed the importance of listening to all races, ages and genders as the basis for joining together for the common good.
"Imagine if we could take that concept of teamwork into the world," Lapchick said. "As graduates of USA, you can take that concept into the world, and I'm confident from the bottom of my heart for the future of all society that you can do it."
At the 2 p.m. ceremony, Mabus praised the graduates for completing college and "for putting in the work and the time," but he added they would not have made it without the help of a lot of other people, such as family, friends, mentors and others.
Mabus praised the 1 percent of Americans who serve in the nation's military, but he told the graduates there are many more ways to serve. "We need skilled and dedicated people protecting our country, but you can also serve as a teacher, nurse, neighbor, mentor to young people, as a voter. The ways of serving are infinite."
A native of Ackerman, Miss., Mabus received an undergraduate degree from the University of Mississippi, a master's degree from Johns Hopkins University and a law degree from Harvard University. From 1988 until 1992, Mabus served as Governor of Mississippi, the youngest person elected to the office in more than 150 years. He was ambassador to the Kingdom of Saudi Arabia from 1994 until 1996. Later, he was chairman and CEO of a manufacturing company. In June 2010, President Obama appointed Mabus to prepare a long-term recovery plan for the Gulf of Mexico following the Deepwater Horizon oil spill. Mabus' report was released in September 2010, and it was passed into law with most of its recommendations intact by Congress as the Restore Act.
Mabus recalled how his own father, who died in 1986, had been a member of the Greatest Generation, the group of Americans who grew during the Great Depression and later fought in World War II.
"It's time for you to decide if you're going to be a member of the next Greatest Generation, and I hope you do," Mabus said. "Get involved. The Greatest Generation changed the world. You can too. When today is over, when you've finished celebrating this achievement, go out and do some things you'll cherish one day. It's your turn. It's your life."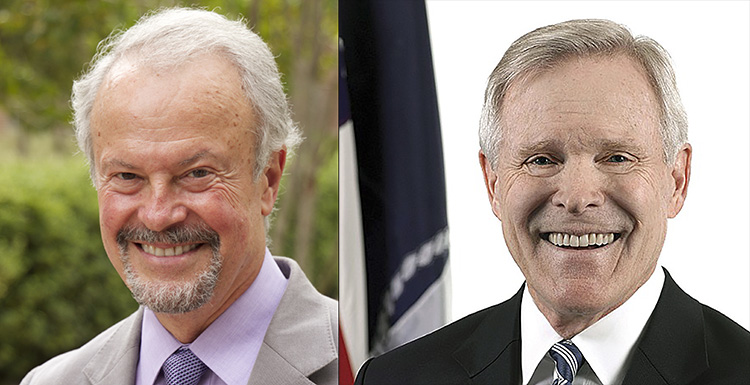 ---