South Alabama Athletics Claims Vic Bubas Cup
---
Posted on June 10, 2015 by Staff
Staff
---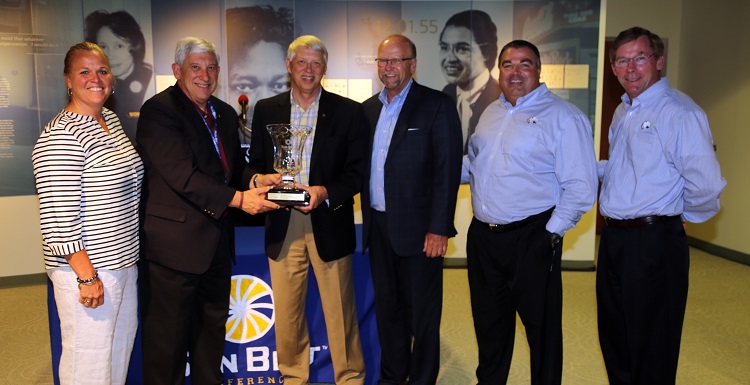 USA President Tony Waldrop, third from left, accepts the Vic Bubas Cup from University of Louisiana at Monroe President Dr. Nick Bruno. Others shown, from left, are USA Associate Athletic Director of Sports Medicine/Senior Women Administrator Jinni Frisbey, Sun Belt Conference Commissioner Karl Benson, USA Director of Athletics Dr. Joel Erdmann and USA Executive Vice President Dr. John Smith.
---
On the strength of four Sun Belt Conference championships, the University of South Alabama has been awarded the Vic Bubas Cup as the league's top member in competition across 17 sports.
The presentation was made recently at the Rosa Parks Museum as part of the league's annual spring meetings. The Vic Bubas Cup is named for the former Duke University basketball coach who became the first commissioner of the Sun Belt Conference, a position he held for 14 years.
"Receiving this award is extremely rewarding considering the excellent athletic programs and leadership we are competing against in the Sun Belt Conference," commented Jaguar Director of Athletics Dr. Joel Erdmann. "It is truly a team award that recognizes the efforts of 17 sports, 380 student athletes, 12 head coaches, dozens of assistant coaches and support personnel, USA students, administration, faculty and staff, and tens of thousands of alumni, season-ticket holders, donors, sponsors and all those proud to be a Jaguar. Everyone who is unified in our vision of excellence has earned a piece of this."
It's the Jaguars' eleventh time to receive the award, the most for any school since the conference's inception in 1976, as well as the program's first all-sports championship since the 1999-2000 season.
USA scored a total of 106 points, edging out Texas State University by 1½ points while finishing two ahead of the University of Texas at Arlington. Four Jaguar programs — soccer and men's cross-country in the fall, baseball and women's tennis this spring — won league championships, while seven others finished among the top half of the standings. The Jag softball team, which advanced to its fourth NCAA Regional championship game in a row, finished second in the regular season before winning the SBC Tournament, with the men's tennis program advancing to the conference tournament championship and football tying for third enroute to the school's first-ever postseason bowl appearance. Other USA programs finishing in the top half of the league included men's basketball, men's indoor and outdoor track and field, and men's golf.
The four Sun Belt titles were the most for the athletics program since collecting four in 2002-03.
For more information about University of South Alabama athletics, visit www.usajaguars.com, and follow the Jaguars at www.twitter.com/USAJaguarSports. Season tickets for all Jaguar athletic events can be purchased by calling (251) 461-1USA (1872).
---