Student Affairs Rep Beats Cancer, Marathon
---
Posted on October 12, 2015 by Joy Washington
Joy Washington
---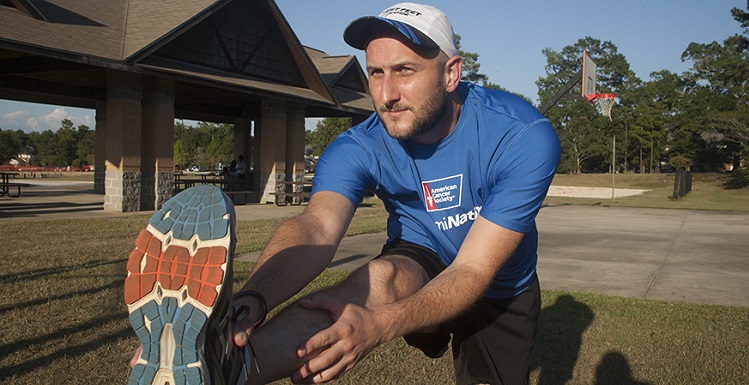 James Contratto, associate director of student activities-university programs in the Division of Student Affairs, raised $2,300 for the American Cancer Society while finishing the Bank of America Chicago Marathon with a new personal record time of 4:14:46.
---
James Contratto, a cancer survivor, has been running for many years, and now he's finished one of the country's largest and oldest long distance running events, the Bank of America Chicago Marathon, with a new personal record and unofficial time of 4:14:46. The marathon was held on Sunday, Oct. 11.
"It was a great course, millions of people supporting, and a beautiful day for a run," Contratto said. "It was an honor to run this with Team DetermiNation, and the $2,300 is the most money I have ever raised for a non-profit, and it will all go to the American Cancer Society. The total $1.2 million the team raised will have a huge impact in the fight against cancer."
Contratto spent months training, and he will always remember the moment he got the news about running in the Chicago Marathon.
"When I registered, my name went into a lottery to be considered for the marathon," said Contratto, associate director of student activities-university programs in the Division of Student Affairs at the University of South Alabama. "When I got the email that I had been selected to run in the marathon, I jumped out of my seat with excitement."
In 2008, Contratto had just started his career as assistant director of student activities for weekend programs and student organizations at the University of North Carolina at Charlotte, when he was diagnosed with testicular cancer. On the day of a health program he organized for students, he read a brochure about testicular cancer and the importance of early detection. He had pain in the groin area and decided he would see a doctor. Following his examination and ultrasound, Contratto had only been home for about one hour when he received a telephone call from the doctor, telling him he had testicular cancer and it had spread to his lymph nodes and abdomen.
"It was the worst news I could have received," Contratto said. "I was confused and scared. I was an emotional wreck. But, with the help of my sweet and loving parents and friends, I started looking at the big picture, and I saw life in my future."
He needed a mantra or motto to motivate him daily. He chose ROCKstrong! It's spelled just as Contratto shared it, with boldness. This helped him focus to beat the dreadful disease. Now, he runs to spread this powerful message of hope and to raise funds for cancer research.
This time, Contratto carried his ROCKstrong! message to the Windy City of Chicago. He knows he could not have overcome this health challenge without a ROCKstrong! mindset and a team of family and friends supporting and cheering him along the way throughout his surgery and three months of chemotherapy treatments. He is especially grateful to his mom, dad and brother. Lisa Contratto has supported her son from the very beginning. When she heard of the cancer diagnosis, she told her husband, Bill, that she was moving to Charlotte.
"It was tough to hear our son had cancer. But, we threw our love and support around James, and told him he was not going to be alone," she said. "I moved from Florida to Charlotte to support and care for my son. I drove him to his doctor's appointments, to have surgery and to his chemotherapy treatments. I lived in his one-bedroom apartment with him. We are so grateful that he is cancer free, and we are proud of the work he's doing at South Alabama and the fact that he's running for a cause."
Contratto joined the track team in 1995 when he was in the eighth grade and discovered his love for long distance running. He ran cross country and track in high school. But after graduating from high school and college, he lost his passion for running and didn't make his health a priority. In 2013, several years after his cancer diagnosis, and some extra pounds, Contratto decided that he missed running and started with his first 5K run in 11 years.
Contratto was disciplined while preparing for the Chicago Marathon. He's been in numerous marathons, including the Rock n Roll Nashville Marathon and the TCS New York City Marathon. He ran three days a week with two cross-training days in between. Contratto ran between 25-36 miles per week. A typical training week looked like this:
Day 1: Run - Speed workout
Day 2: Cross-Training
Day 3: Run - Mid-distance tempo run
Day 4: Cross-Training
Day 5: Rest
Saturday or Sunday: Long Run.
Contratto earned his bachelor of science in accounting and finance from Florida State University and his master's degree in student affairs from Eastern Illinois University.
"I have known James since he was a senior at Florida State," said his mentor and supervisor, Dr. Krista Harrell, associate dean of students and Title IX coordinator. "I supported him when he had cancer. He embodies ROCKstrong! He engages our students with positive energy and high expectations. He has balanced his work and run-life very well. We are so proud of him."
Contratto's girlfriend, Leigh Arkle, has supported him during his past marathons and traveled to Chicago to be with him.
"I was at the finish line cheering him on as he completed his third marathon in Chicago," she said. "When James has a battle to fight, whether it's running a race or beating cancer, he does not give up until the fight is won."
Contratto was mentally ready for the race, and more importantly, he's grateful to his ROCKstrong! team of family, friends and donors.
"I am living a healthy life, thanks to my friends, family and medical team," he said. "I have been cancer-free for seven years. The day I got cancer is now my survivor day. I have survived cancer, and now I have been able to survive 26.2 miles running in the Chicago Marathon."
---