Der Skandal: 7 Next Steps for Volkswagen
---
Posted on November 4, 2015 by Marketing and Communications
Marketing and Communications
---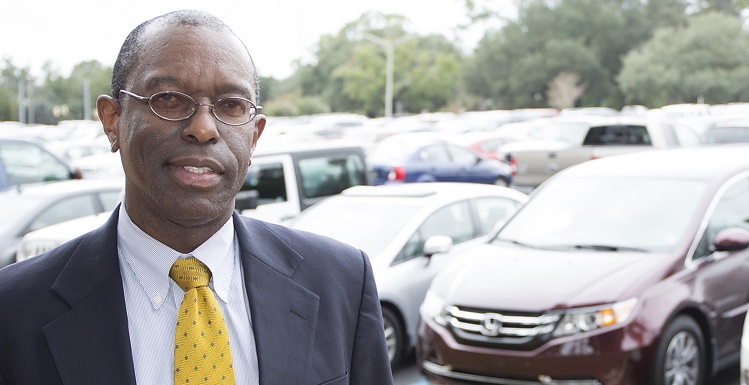 In trying to protect its brand, Volkswagen should consider taking a stronger, more aggressive leadership role in emissions-related research and education, said Dr. Alvin Williams, distinguished professor of marketing in USA's Mitchell College of Business.
---
Volkswagen is not just in the car manufacturing business. They've also built a brand.
As the German automaker finds itself embroiled in an emissions cheating scandal, it will have to focus on regaining trust and rebuilding brand integrity, said Dr. Alvin Williams, distinguished professor of marketing in the University of South Alabama Mitchell College of Business.
Volkswagen is accused of installing software on diesel vehicles – so-called defeat devices – that made a vehicle run cleaner when tested. This week, the U.S. Environmental Protection Agency widened the number of vehicles affected, including the Porsche brand and additional VW and Audi models.
The scandal has seriously jeopardized the integrity of the once-venerable Volkswagen brand, Williams said. In addition to suffering direct financial consequences, VW has diminished its brand equity – the additional value of a company based on how consumers connect or relate to a particular brand.
With VW in crisis mode, Williams suggests some next steps:
VW should continue to accept full responsibility for this major integrity lapse. This should be approached from an integrated marketing communication perspective, where a holistic strategy allows for the use and deployment of the full communications toolkit required to re-open the doors of lost trust.
VW should reassure the range of stakeholders that a comprehensive review by internal and external parties will uncover the flawed processes, policies, systems, corporate cultural values and people most responsible. This approach to accountability buoys confidence in the organization and its actions.
VW should underscore the complete transparency of their review process. Any hint of additional cover-up attempts will be even more devastating. The public should be able to track VW's progress toward greater openness.
VW must be specific, clear and genuinely forthcoming about the exact actions/behaviors that will be instituted to remedy the emissions debacle.
VW should reassure owners of both diesel and non-diesel vehicles that the company is still committed to environmentally friendly products and processes. They should remind customers and others of VW's long history of environmentally oriented and sustainability related leadership in the automotive industry. In some instances VW was in the vanguard touting environmentally responsible behaviors in the automotive sector. In essence, they should highlight their tradition of "green" accomplishments.
VW should consider taking an even stronger, more aggressive leadership role in emissions-related research and education. These efforts reinforce VW's commitment to advancing both emissions-related thought and practice.
Finally, VW's brand and trust rehabilitation will ultimately require a series of thoughtful, methodical, customer-centric actions focused on telling the truth, doing the right things, and insightfully – and creatively – communicating well-crafted messages.
---