Student Groups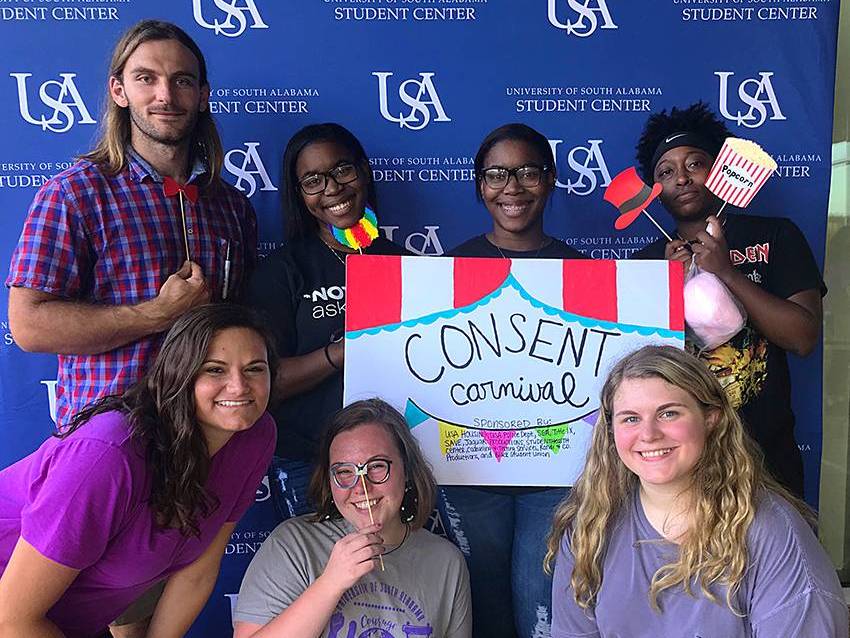 There is no student group directly affiliated with or representing the USA Gender Studies Program. However, there are many student groups on campus that address issues related to women, gender, and sexuality. Some of these groups include:
USA GENERATION ACTION: A student-run organization that promotes comprehensive reproductive and sexual healthcare on campus and in our communities. USA Generation Action aims to raise public awareness about reproductive health and rights; to educate young people about sexual health; to organize and mobilize allies of reproductive freedom; and to serve as a coalition partner to state, national, and international efforts for reproductive rights.

SPECTRUM: A student-run, community-based organizations open to persons of all sexual orientations and gender identities/expressions for the education and support of the gay/lesbian/bisexual/transgender/queer/ally (GLBTQA) university community in the areas of activism and/or confidential support. Spectrum proudly represents individuality, diversity, and equality. Spectrum offers a safe-space to freely socialize and discuss issues affecting our lives, attempting to educate the university and community at large on matters of discrimination, harassment, and human rights.

VIOLENCE PREVENTION ALLIANCE: The VPA is open to all faculty, staff, undergraduate and graduate students at the University of South Alabama. To learn more about participating, email the VPA Chair at vpa@southalabama.edu.

FEMINISTS FOR PROGRESS: This student organization has been an active (in one form or another) at the University of South Alabama since 2000. For more information, please contact: feministsforprogress@gmail.com

WOMEN OF EXCELLENCE: This organization's purpose is to ensure, encourage, and motivate women at USA to establish and use leadership skills. The program focuses on class scheduling, career opportunities, etiquette, and student involvement on campus. to become a member of WOX an individual must have a minimum GPA of a 2.8 and at least 15 credit hours.

SEXUAL ASSAULT AND VIOLENCE EDUCATORS: The Sexual Assault and Violence Educators (SAVE) are a group of peer educators trained on violence prevention, consent, resources and referral who lead presentations and events in our community. Interested students should contact save@southalabama.edu for an application.