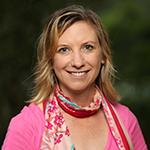 Kathy Cooke
---
Biography
B.A., Calvin College
M.A., Calvin College
Ph.D., University of Chicago
See More
---
Publications
"'Who Wants White Carrots?': Congressional Seed Distribution, 1862-1923," The Journal of the Gilded Age and Progressive Era, 17 (2018), no. 3, 475-500.
"Cultivating Awareness in Honors: First-Person Noting and Contemplative Practices," Honors in Practice, 11 (2015), 189-201.
"Generation(s) and (Re)generation: Group Identity in Colonial New England," Journal of the History of Sexuality 23 (2014), no. 3, 333-357.
"Crop and Livestock Improvement in Connecticut Towns," in Voices of the New Republic: Connecticut Towns, 1800-1832, vol. 2, What We Think. Howard Lamar, ed. New Haven: Connecticut Academy of Arts and Sciences, 2003.
"Expertise, Book Farming, and Government Agriculture: The Origins of Agricultural Seed Certification in the United States," Agricultural History 76 (2002) no. 3, pp. 524-545.
"Duty or Dream? Edwin G. Conklin's Critique of Eugenics and Support for American Individualism," Journal of the History of Biology 35 (2002), pp. 365-384.
"The Limits of Heredity: Nature and Nurture in American Eugenics before 1915," Journal of the History of Biology 31 (1998), pp. 263-278.
"Human Fertility and Differential Birth Rates in American Eugenics and Genetics: A Brief History," Mount Sinai Journal of Medicine 65 (1998), pp. 161-166.
"Twisting the Ladder of Science: Pure and Practical Goals in Twentieth Century Studies of Inheritance," Endeavour 22 (1998), pp. 12-16.
"From Science to Practice, or Practice to Science? Chickens and Eggs in Raymond Pearl's Agricultural Research, 1906-1916," Isis: Journal of the History of Science Society 88 (1997) pp. 62-86.
"An American Gospel of Social Evolution: Religion, Education, and Biology in the Thought of Edwin Grant Conklin," University Microfilms, Ph.D. diss., University of Chicago, 1994.
"Darwin on Man in the Origin of Species: An Addendum to the Bajema-Bowler Debate," Journal of the History of Biology 23 (1990) pp. 517-521.