USA-Phi Sigma Iota Merit Scholarship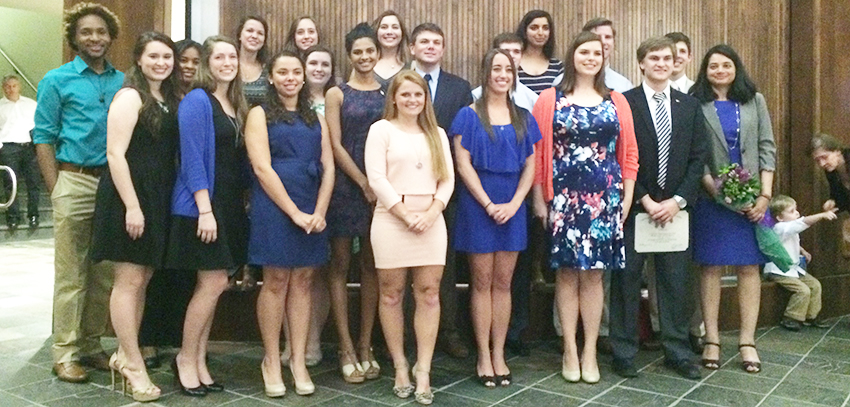 The USA Phi Sigma Iota Scholarship
In early spring 2015, the students and advisor of the USA chapter of Phi Sigma Iota (PSI) signed an agreement to endow an undergraduate scholarship through the Mitchell-Moulton Scholarship Initiative. This new scholarship would be for a meritorious member of USA's PSI chapter. We had 5 years to raise $10,000, which would be matched dollar for dollar by the Mitchell-Moulton fund. Upon reaching the $10,000 mark, we would have a $20,000 endowment, allowing the Department of Modern and Classical Languages to award annually a scholarship to a deserving Phi Sigma Iota student.
Barely a year and a half later, PSI had raised $11,000, surpassing its target! This means that in spring 2017, we will award one merit scholarship of approximately $1,000 to a deserving PSI member who excels in foreign languages and demonstrates leadership in promoting languages, inter-cultural dialogue and international awareness on campus and in the larger Mobile community.
PSI is the second student organization (after "Students Today, Alums Tomorrow") to endow a chapter scholarship on campus through the Mitchell-Moulton Scholarship Initiative. The USA's chapter is also only the second PSI chapter nationally to set up its own chapter scholarship (the chapter at Rutgers University has also done this).
People from all walks of life and backgrounds helped to make this scholarship a reality. PSI is proud that the fundraising effort allowed us to promote the mission of USA, the College of Arts & Sciences, and the Department of Modern and Classical Languages. The journey from the idea for a scholarship to formulating it as a goal, and finally to this moment of having the scholarship up shows that it takes a city to turn our shared goals into concrete realities.