Current Season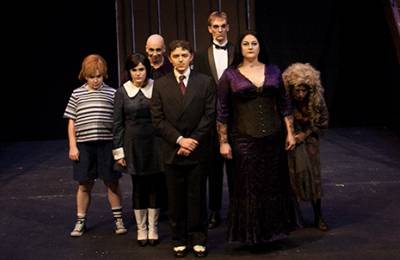 "All the World's a Stage"

- William Shakespeare
2019-20 Season
FALL 2019
The Baltimore Waltz
By Paula Vogel
Directed by Lars Tatom
When Anna, an unmarried schoolteacher, is diagnosed with a fatal new illness plaguing elementary school teachers, she and her brother Carl take flight to Europe, in hopes of finding a cure. A giddy and wild-paced fantasy based on the true lives of the playwright and her late brother, this production contains adult language and situations, and is recommended for audiences 16 and older.
Sept. 27, 28, 29*, Oct. 3, 4, 5, 2019
Major Barbara
By Bernard Shaw
Directed by John Nara
Barbara, a young upper-class woman in early 20th century London, shows her love for the poor by throwing her energies into her work as a Major in the Salvation Army. Andrew Undershaft, a millionaire armaments manufacturer and her estranged father, loves money and despises poverty. Barbara sees her father as just another soul to be saved. Shaw's classic comedy is as vital today as when it was first written.
Nov. 15, 16, 17*, 21, 22, 23, 2019
SPRING 2020
Dr. Jekyll and Mr. Hyde
By Jeffrey Hatcher, from the novella by Robert Louis Stevenson
Directed by Keone Fuqua
An exciting new adaptation of the classic tale of Dr. Henry Jekyll and his experiments with "exotic powders and tinctures", this highly theatrical version highlights the classic battle between good and evil, and the very fine line that can separate the two. Not to be missed!
Feb. 21, 22, 23*, 27, 28, 29, 2020
A Midsummer Night's Dream
By William Shakespeare
Directed by Lars Tatom and John Nara
Shakespeare's beloved tale of bickering immortals, love-struck youth, and the best group of "bad actors" ever comes to life to end the season on the Laidlaw Mainstage.
April 17, 18, 19*, 23, 24, 25, 2020
* - denotes Sunday matinee 2pm performance