2020 Color Guard Auditions
Do you want to audition for the JMB Colorguard? Follow these five easy steps!

Step 1 - Apply to USA!

You must be fully admitted to the University of South Alabama in order to audition for the Jaguar Marching Band.
Membership in the JMB Colorguard is open by audition to all full-time students at the University of South Alabama. If you have already been accepted to the University of South Alabama, you may skip this step!
Step 2 - Fill out the JMB Intent Form!
To register for your Jaguar Marching Band Colorguard audition, you must fill out the JMB Intent Form PRIOR to submitting your video audition. The JMB Intent Form can be found HERE.
Step 3 - Get Prepared and Learn the Audition Routine!
Watch this video from our Guard Instructor, Mrs. Foster as she explains the routine you will need to learn for your audition!
Learn the Colorguard Audition Routine
The music used in the video can be found here: "Let It Grow (Celebrate the World)" from The Lorax
If you have any questions about the audition or the routine please email: usaguard@southalabama.edu
Step 4 - Submit your Video Audition for the JMB Colorguard!
Due to the current COVID-19 outbreak and for the safety of all auditionees we have moved all JMB Colorguard auditions to an online video submission format effective March 28, 2020.
All JMB Colorguard video auditions will be evaluated beginning on April 25, 2020. In order for you to be considered for the Fall 2020 JMB Colorguard, you must submit your video by 11:59pm on April 24, 2020. Your audition video will be judged that next week and we will post the results on the JMB Colorguard website as well as notify you by email (both your jagmail and your personal email). Students must be accepted to the University of South Alabama prior to the awarding of a Jaguar Marching Band scholarship.
Prior to filling out the JMB Colorguard Video Audition form you will need to have your measurements for your uniform as you will need to input these along with your audition video. The measurement sizes we will need are: Height, Weight, Chest, Waist, Hips, Inseam, Girth, and Back. Please watch this YouTube video on how to take these measurements. (any false/incorrect measurements may cause a delay in you marching with the JMB) You can access a copy of the measurement sheet to keep track of your measurements HERE.
Jaguar Marching Band Colorguard Video Audition Submission
Step 5 - Fill out JagSpot for Scholarship Consideration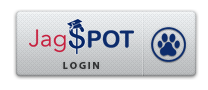 All students who are accepted into the Jaguar Marching Band receive a scholarship! In order to award your scholarship after your audition you will need to apply in the JagSpot Scholarship System.
When submitting your general scholarship application please click "yes" to the question regarding the USA Department of Music/Jaguar Marching Band. This will then move you to the Department of Music/Jaguar Marching Band JagSpot Application. Please fill out this short application completely. Once you have submitted this information you will be eligible for your Jaguar Marching Band Scholarship.