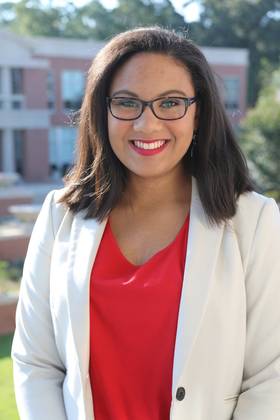 Meisler Hall Suite 2500
M-F 8-5
Ph: (251) 461-1916
---
About Me
They say you should know a little bit about a lot of things in order to be prepared for anything. I always felt that saying applied to the way I grew up because both my parents were in the military so we moved around a lot. I was born in Biloxi, Mississippi, grew up around the U.S., went to high school in Natchitoches, Louisiana, and settled for college in Mobile, Alabama. I graduated from South Alabama in December 2018 and now I get to work for my alma mater doing what I love and there is nothing in the world that excites me more! I am truly passionate about South Alabama and about helping students and their families realize all the opportunities available to them here.
In my spare time, I enjoy walking on campus with my friends, bingeing Netflix shows like Umbrella Academy and Stranger Things with my boyfriend, documenting the lives of my dogs (Winry and our foster puppy Bellona that we plan to adopt soon!) for my scrapbook, cooking, reading, and taking advantage of the festivals and activities in and around Mobile! Please don't hesitate to reach out and ask me anything you may want to know about attending South Alabama. I can't wait to show you what it means to be a part of the Jaguar family!
---
Education
University of South Alabama
Bachelor of Arts in Strategic Communication
---
My Favorite:
Thing to do on campus
I love to take advantage of the walking spots. The fitness trail and intramural fields are two of my favorites. Walking is a great and easy way for me to stay active and our campus has beautiful scenery that makes for fantastic views.
Thing about USA
My favorite thing about USA is there is so much opportunity for students in every aspect of their lives. By working with their peers, administration, faculty and staff, or a combination of those groups, students can, and have achieved so much on campus and in the community!
Thing to do in Mobile
Attend the LODA Art Walk. For someone with a limited budget the art walk is perfect because I can get active by walking around downtown, hang out with friends, support local businesses and artists, and take advantage of all the specials and discounts!
Music
My favorite kind of mainstream music is country but to be perfectly honest I am likely to be found jamming out to Disney music and/or Showtunes when I am at home, especially if I am cooking or cleaning!
Movie
My favorite movie of all time is Howl's Moving Castle. Something about the fantastical adventure always leaves me awestruck and I am a sucker for a happy ending.