Participation Rules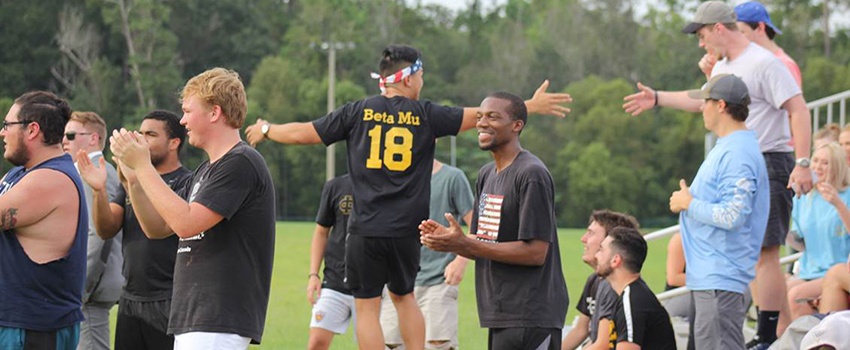 Eligibility
South Sports is open to all currently enrolled students, faculty and staff, and alumni of the University of South Alabama.
Participants are limited to ONE TEAM per LEAGUE per SPORT.
ALL participants must be registered on IMLeagues prior to their participation.
▼ Alumni Policy
Alumni participants are defined as any individual that has been previously enrolled as a student at the University of South Alabama, at least part-time, for one semester.
Alumni participants must pay an alumni fee of $25 per semester to participate in South Sports Programs.
Alumni fees will be collected electronically, after the first week of the league, via IMLeagues.
If you have any questions regarding Alumni status, please contact the South Sports office.
Teams with more than two alumni players will be considered an "Alumni Team".


Alumni Teams are not eligible for South Sports Championships of any kind.
Alumni teams will not be seeded into playoff brackets with non-alumni teams.
If there are enough alumni teams participating in that sport, an Alumni Playoff will be will be created and a winner will be determined.
▼ Collegiate Athlete Policy
Limited number of Collegiate Athletes are allowed to participate in South Sports programs.
Collegiate Athletes who were rostered players during the current academic year are ineligible to participate in the corresponding South Sport for which they are lettered.
Collegiate Athletes will be defined as meeting one of the following:

An athlete who is or was on a roster in a varsity sport at a 2 or 4 year institution within the past 5 years.
Someone who has been on a collegiate sport scholarship within the current academic school year.
Current red or gray shirt athletes
Sport Club participants
Traveling/Upper-classification softball players
*The South Sports Administration reserves the right to define collegiate athlete status for any player.

For each sport we provide, a limited number of Collegiate Athlete are permitted per team, for the sport at which they lettered. (Example: No more that one former Collegiate Women's Soccer player (within 5 years of her last Collegiate season) is permitted to play on a 8 on 8 Soccer team.)
Sport Corresponding Collegiate Sport & Number of permitted Collegiate Athletes permitted to participate:
Sport
Collegiate Sport
Number of Athletes Permitted

8 on 8 Soccer

Indoor Soccer

Soccer
1

Volleyball

4 on 4 Volleyball

Sand Volleyball

Volleyball
1

Basketball

Shortman Basketball

3 on 3 Basketball

Basketball
1
Softball

Softball

Baseball

4
Team Policies