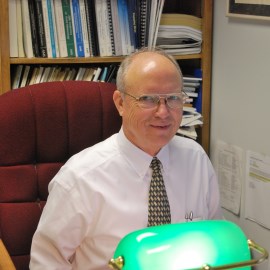 Dr. Keith Blackwell
Hurricane and Winter Weather Expert

---
Education
B.S. 1980 University of Wisconsin
M.S. 1987 Texas A&M University
Ph.D. 1990 Texas A&M University
---
Bio
Dr. Keith Blackwell joined the faculty of the Department of Earth Sciences at the University of South Alabama (USA) in September of 1996 after serving thirteen distinguished years as a meteorologist with the U.S. Air Force where he achieved the rank of Major in 1994. He subsequently spent another seven years in the USAF reserves where he served as Chief of Weather Forecast Applications with the 15th Operational Weather Squadron before retiring at the rank of Lieutenant Colonel in 2005.
Dr. Blackwell has published several journal papers on tropical weather systems, including two studies on eyewall replacement cycles, low-level wind maxima, and extreme rainfall in landfalling hurricanes. His current research is in intensity assessment and structural aspects of landfalling hurricanes. Dr. Blackwell developed a numerical hurricane track and wind profile model called the Blackwell Over-surface Hurricane Wind (BLOHW) Model. With the help of this model, he has provided real-time hurricane forecasts for up to 100 industrial, educational and governmental clients through USA's Coastal Weather Research Center during hurricane emergencies, including Danny (97), Georges (98), Lili (02), Ivan (04), and Katrina (05).
Dr. Blackwell teaches the capstone senior course on synoptic meteorology and forecasting at the University of South Alabama. He also teaches a tropical discussion course during hurricane season each year, as well as a summer course titled "Hurricanes of the Gulf Coast" at the Dauphin Island Sea Lab.
Prior to his appointment to USA, Dr. Blackwell was the Director of Meteorology at the United States Air Force Academy in Colorado Springs. While at the Academy, he served as Director of the Cadet Summer Research Program (1994-96) and was Secretary of the Weather Career Field Selection Board (1994-1996).
In addition to his teaching experience at the University of South Alabama and the Air Force Academy, Dr. Blackwell was a Lecturer in the Department of Geography at the University of Nebraska-Omaha (1992-93) and Embry-Riddle Aeronautical University (1991-92). Also he served as a Lecturer for the Department of Defense Mesoscale Modeling and Forecasting Seminar at Air Weather Service Headquarters (1992). He was also the Lead Scientist and Team Chief for the Regional Numerical Models Team at Air Force Global Weather Central in Omaha NE from 1990-1993.
Dr. Blackwell has also worked as a forecaster with Capitol Weather Service in Mobile, AL, (1981-1983) prior to joining the U.S. Air Force. In addition, he was an Air Pollution Meteorologist with Air Pollution Control in the Jefferson County Health Department in Birmingham, AL (1980-81).
Among his many awards, Dr. Blackwell has received two Meritorious Service Medals from the U.S. Air Force Academy and 15th Operational Weather Squadron, the Outstanding Educator Award for Teaching Excellence at the Air Force Academy, the Lance P. Sijan Leadership Award for Air Weather Service while at AFGWC, and recently the Dean's Lecture Award in the College of Arts and Sciences at USA (the college's highest faculty award). In addition, Dr. Blackwell was asked to testify before the U.S. Senate's subcommittee on Disaster Prediction and Prevention following the Hurricane Katrina disaster.
Dr. Blackwell also received a Distinguished Graduate Student Award (one of only 5 annually) while a student at Texas A&M University in 1988.