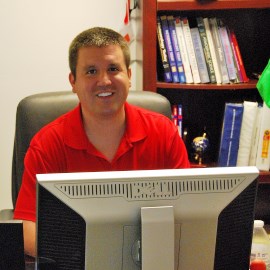 Andrew Murray
Forecaster and Hurricane Specialist

---
Education
B.S. 2007 University of South Alabama
M.S. 2009 Florida State University
---
Bio
Mr. Andrew Murray has had a passion for meteorology from an early age. One event in particular that sparked his interest was the passing of the remnants of Hurricane Andrew near his parents' home in Columbus, MS, an event which also resulted in the spawning of a tornado which knocked a tree onto their house. This experience fostered a love for the weather, and the tropics in particular, that has evolved into his career.
Andrew received his B.S. in Meteorology from the University of South Alabama in 2007, and subsequently moved to Tallahassee, FL, to attend Florida State University, with the goal of obtaining his Master's degree to teach meteorology at the university level. While there, he was privileged to join Dr. Bob Hart's lab and performed research on hurricane intensity change using inner-core variables gathered from Vortex Data Messages taken by Hurricane Hunter reconnaissance flights. Andrew received his M.S. in Meteorology from FSU in the fall of 2009.
Immediately following completion of his M.S., Andrew joined the faculty of the University of South Alabama in January 2010. He routinely teaches Introduction to Meteorology and General Meteorology as well as assisting Dr. Blackwell in the Synoptic Meteorology labs. Other courses taught include Weather Forecasting and Atmospheric Analysis. Andrew's research interests include tropical and synoptic meteorology.
In addition to his teaching duties, Andrew is a member of the staff of the Coastal Weather Research Center, providing severe weather warnings to clients. Dr. Blackwell and Andrew also provide hurricane forecasts and graphics during the Atlantic hurricane season.
When not involved in meteorology, Andrew can usually be found either participating in or watching sports. He played basketball and baseball in high school, and as co-advisor of the Meteorology Club, he often joins the students in intramural sports activities. He also enjoys playing golf. Andrew lives in Mobile with his wife, Marisa, who is also a graduate of the University of South Alabama.