Meet the Southbound Team
Delisa Johnson
Director, Prospective Student Programs & New Student Orientation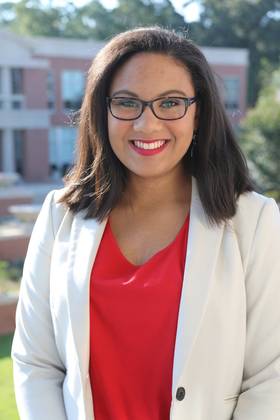 Riss McCraney
Coordinator, Prospective Student Programs & New Student Orientation
Alongside the University staff, the Southbound Orientation team is comprised of student leaders who represent different hometowns, academic years, and majors. One of the Southbound Orientation Leaders will be assigned to you to guide you through the new student orientation process. Be sure to ask the Southbound Orientation Leaders any questions you have about campus, campus life, and being a student at USA!

Here are you Fall 2020 Orientation Leaders:
A'Kacia M.
Akesia R.
Senior Leader
Amelia Rose Z.
Eboni E.
Beck G.
Bradley W.
Senior Leader
Brittney S.
Senior Leader
Gillian E.
Senior Leader
Isabella Z.
Makayla M.
Portia E.
Sydney G.
Do you want to join the Southbound Team?
The Office of Prospective Student Programs & New Student Orientation will be hiring Student Assistants for Summer and Fall 2021 during the spring semester.
These student employees, also known as Orientation Leaders, are responsible for welcoming prospective and new students to the university and providing them with essential resources and information to be successful Jaguars. The expectation is that selected leaders will begin employment this fall and continue into the following semesters, including summers.
Interested students that meet the qualifications and requirements (as outlined in the job description) should complete and submit an application with their resume and class schedule for consideration by the deadline (TBD) when the application is released in the spring.