Printing Services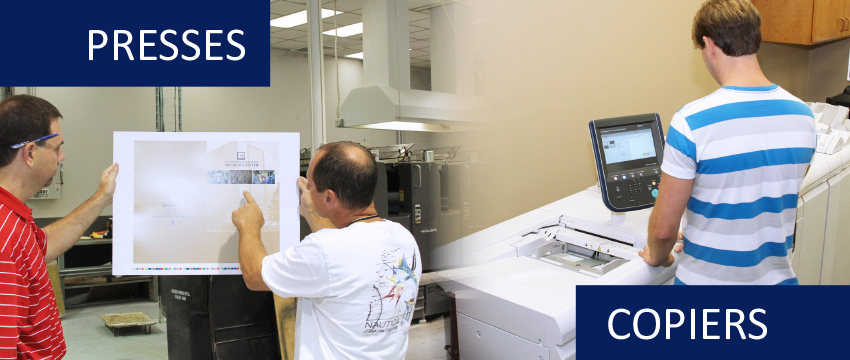 Whether simple or complex, your printing request will receive the high level of service, quality, convenience, and cost savings with our one, two, and four color presses.
Press Printing
Offset presses are used for high volume and more complex jobs requiring larger sizes, longer runs, 4-color process, large solids and hairline registration.

HEIDLEBERG offset presses include:
2 - 2-color Quick Masters
1 - 2-color MO Offset
1 - 4-color MO Offset
Paper sizes range from 3" x 5" to 19" x 25.5".
Copying
No job is too big or too small for our copy services. Should you require one copy or 500 copies of your document, we can produce it in black or full color prints. The maximum paper size is 13" x 19".
HIGH SPEED DUPLICATING: While this system is not a press, it produces better quality from a good original than do other methods of duplicating and provides a first generation print from digital files. If you are concerned with speed and cost, this method is one to be considered. Most artwork, photography, and graphs can be reproduced using this process, however, you should consult our personnel upon submitting a copy order. This unit can also produce high-quality scanning to store valuable documents as Word or Adobe Acrobat files.
COLOR: Publication Services is equipped with two top of the line color copiers, the 700 Digital Color Press, and the J-75 Digital Color Press. The color representation produced by these units are excellent and on regular paper stock will deliver up to 51 prints per minute. Various types of cover weight stocks, transparencies, and other media can be utilized as well.
We also have an Oki CX3641 Dynamic Envelope Printer that is capable of printing full color on envelope sizes up to 10" x 13" and is used for much of our variable data production.