Getting Started

The following information outlines the basic steps to getting started in preparing to submit your research project to the IRB, or if you wondering whether you have to submit your project to the IRB at all. The IRB is available to assist you at each step in the process.
Please click on boxes for instructional information.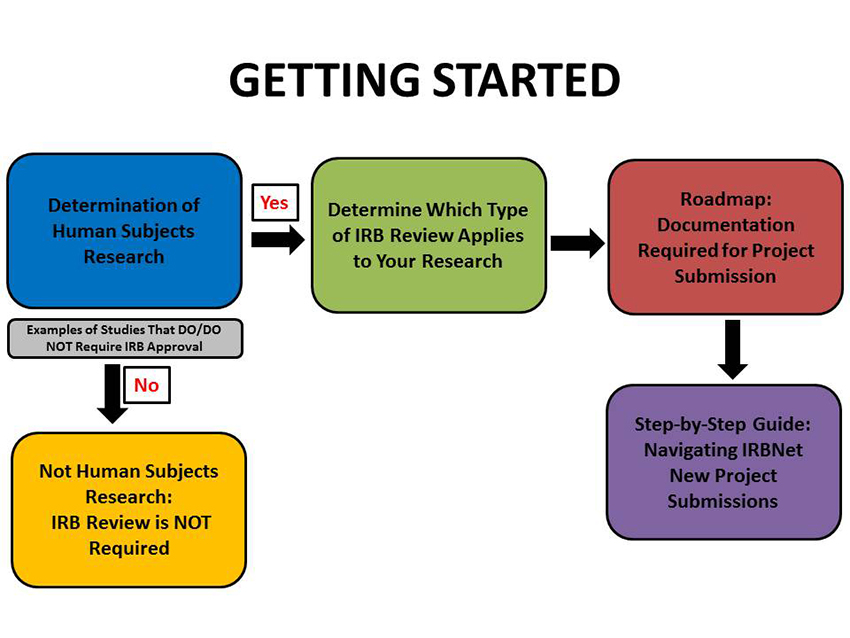 Determine if you need to apply to the IRB
Examples of Studies That DO/DO NOT Require IRB Approval
Determine which type of IRB review applies to your research
Investigators submitting for full board review should be aware of IRB meeting dates and submission deadlines
Roadmap: Documentation required for IRB new project submission
Step-by-Step Guide: Navigating IRBNet online project submission

What are my responsibilities after IRB approval?
Note the following reporting requirements post IRB approval. All IRB forms are located in IRBNet forms/templates. The following activities require further submission to the IRB:
Amendments: Modification to the study must be approved by the IRB prior to implementation
Continuing Review: IRB review is required at least annually, unless a shorter approval period was determined by the IRB. IRBNet will generate an automatic email notification 60 and 30 days prior to study expiration.
Reportable Events: Serious Adverse Events, Unanticipated Problems, Protocol Deviations
Study Closure