European Vacation Step Challenge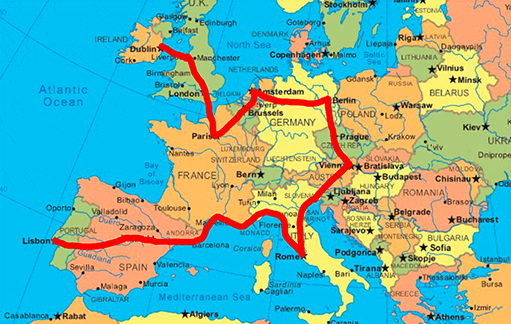 European Vacation Team Step Challenge
And we have a third, but first…the recap.
Reboot B 4 U Call, A Step Ahead, and The Walkaholics didn't let those first-place teams intimidate them into not striding for excellence. A battle emerged early between these teams to see who could keep up with The Bag Packers and the Road Scholars, where one team has now emerged victorious! In third place for the European Vacation, Reboot B 4 U Call has arrived in Lisbon, Portugal! With this team arriving, we've officially reached the end of our European Vacation Team Step Challenge.
Our last individual leaderboard has also been updated! Did you round out in the top 50 steppers? Click here to find out!
We hope you had fun stepping with your friends and coworkers! We'll be back next week with our Wellness Bingo which we're sure you'll enjoy. We're also working on additional wellness activities to keep things active as we transition into the fall.