Academics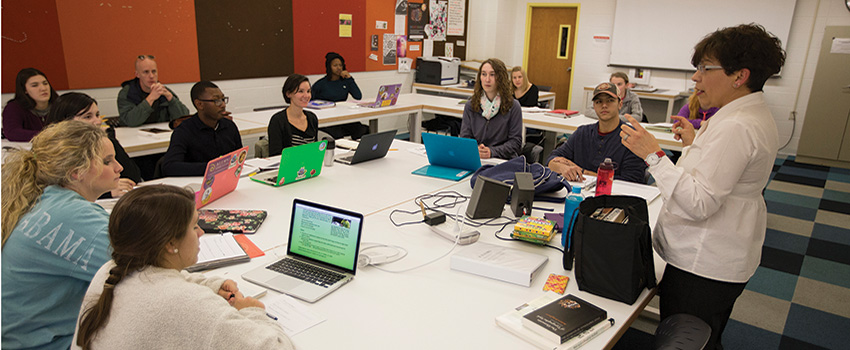 A University of South Alabama education provides opportunities for students to explore and develop interests that build the foundation of lifelong career paths. With more than 50 undergraduate degree programs — from chemical engineering to criminal justice to theatre arts — South provides plenty of avenues for discovery. Through graduate study in our 33 master's and 13 doctoral programs, students focus on specific areas of learning and research to gain specialized skills.


Colleges and Schools
At USA, learning takes place in a vibrant, active and exciting environment. Our faculty are dedicated to teaching and helping students reach their maximum potential. More than 75 percent of courses are taught by full-time faculty, a very high rate for a research-intensive institution. Courses are offered within 10 academic divisions: Pat Capps Covey College of Allied Health Professions, College of Arts and Sciences, Mitchell College of Business, School of Computing, School of Continuing Education and Special Programs, College of Education and Professional Studies, College of Engineering, College of Medicine, College of Nursing, and the Graduate School.


Honors College
The USA Honors College, housed in the historic Seaman's Bethel, is designed to help exceptionally capable and motivated undergraduate students get the most out of their college experience through challenging coursework, meaningful research, international experience and community service. The program aspires to instill in students the intellectual skills and habits to become leaders in their community, country and career. In 2017, the Honors College will become the USA Honors College.


National Scholarships
USA students have been awarded numerous national scholarships and fellowships, including a National Merit Scholarship, five Goldwater scholarships, seven Hollings scholarships, 29 Tau Beta Pi scholarships (Engineering Honor Society), and 17 fellowships for graduate study from organizations such as the American Heart Association and the National Science Foundation. USA also is currently raising funds for the Mitchell-Moulton Scholarship Initiative, a $25-million matching challenge that will strengthen USA's commitment to opportunities for current and future students.


College of Medicine Early Acceptance Program
The College of Medicine Early Acceptance Program offers highly qualified high school seniors a conditional acceptance to the College of Medicine, contingent upon the students' satisfactory completion of their undergraduate program. EAP students enter the Health Pre-Professions Program at USA and their curriculum includes the core requirements for the selected program and prerequisites for medical school.


International Education
The Office of International Education is responsible for the coordination, facilitation and oversight of the University's international activity. This includes the Study Abroad program, where students enrich their lives through educational experiences in a foreign country, while earning credit toward a degree.


Centers and Institutes
USA's centers and institutes support the teaching, discovery and service missions of the University. Often working across disciplines, these entities employ highly skilled faculty, staff and students, offering a critical mass of talent and focused expertise and resources. These partnerships create new and diverse opportunities that expand and enhance the knowledge, economic condition and quality of life of our region and the world.