USA Researcher Selected by Governor for Water Quality Research,Testing Already Underway in West Virginia
---
Posted on February 13, 2014 by Jeb Schrenk
Jeb Schrenk
---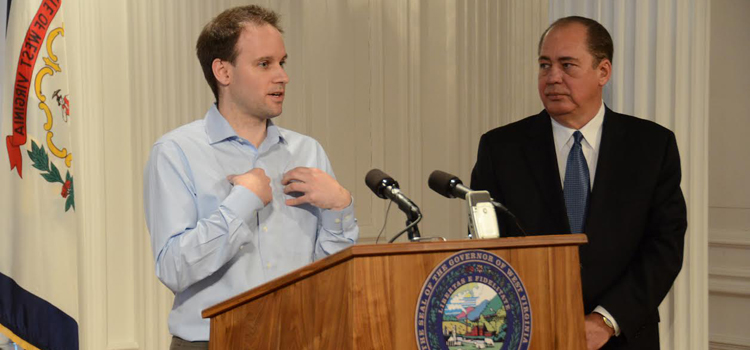 From left, Dr. Andrew Whelton, an assistant professor of environmental engineering at the University of South Alabama, speaks at a news conference with West Virginia Gov. Earl Ray Tomblin. Photo courtesy of the West Virginia Office of the Governor
---
West Virginia Gov. Earl Ray Tomblin has tapped a University of South Alabama environmental engineer to lead an independent review of drinking water quality following a chemical spill affecting about 300,000 people around that state's capital.

Dr. Andrew Whelton, assistant professor of environmental engineering at USA, and Jeffrey Rosen of Corona Environmental Consulting, were selected Tuesday to lead a team of scientists who will conduct the review.

"The governor's initial commitment of resources is an important first step to determining the long-term safety of tap water here in West Virginia," Whelton said. "I'm encouraged that support is being given to testing water in homes. It is crucial that we let science guide our work. The people of West Virginia deserve no less."

Whelton and several USA grad students traveled to Charleston, W.Va., after several thousand gallons of 4-methylcyclohexane methanol (MCHM), used in coal processing, leaked into the Elk River upstream of the intake to a regional water utility treatment plant. The Jan. 9 leak was discovered after residents detected a licorice odor in their water, leading to a temporary use ban and uncertainty about water safety.

The USA researchers helped residents properly flush out their plumbing systems and began collecting data to try to determine what effect the contaminated water might have on plumbing systems and the water flowing through them. The results of those tests are pending.

Tomblin engaged Whelton this week to do testing on behalf of the state. A $650,000 commitment from Tomblin will allow Whelton and Rosen's team to:
Launch an initial assessment for testing tap water in homes.
Initiate an in-depth analysis to determine the odor threshold for MCHM.
Establish an independent panel of experts to evaluate the safety factor for MCHM.
State and federal authorities have said that the water is safe to use and drink, and some testing has been done at fire hydrants and some public buildings.

Whelton has pushed for additional testing in homes. He specifically has been concerned that contaminated water stagnated in residential plastic pipes, and that those pipes may have absorbed some of the chemicals, affecting future water quality.

As part of his work for the state, Whelton is testing the water at ten homes in the nine-county area. The testing will include samples from hot and cold faucets and multiple locations in each home.

That will give researchers an assessment of the water quality in those ten homes and provide the scientists a blueprint for how a larger-scale sampling might be conducted. Tomblin has asked for federal assistance for ongoing research, including additional testing.

Whelton recently was awarded funding by the National Science Foundation to help fund his research in West Virginia. A crowdfunding site has been set up at experiment.com/wvwatercrisis that allows people to give online.

Whelton said it will be important to continue involve USA graduate students, as the University prepares the next generation of scientists and engineers to help prevent and respond to similar crises.
---