Overseas Clinical Experiences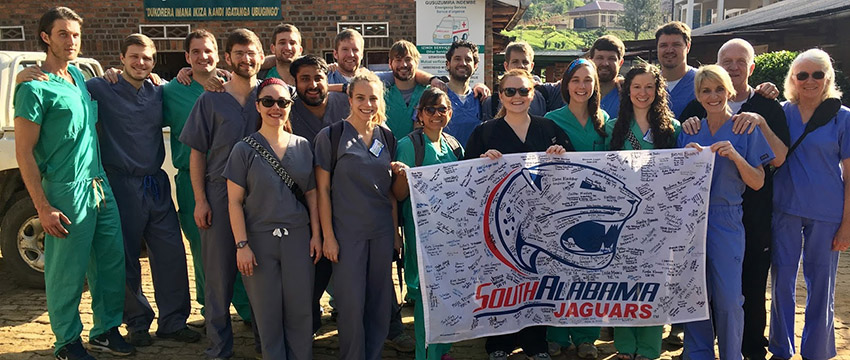 Each year, the Christian Medical Ministry of South Alabama (CMMSA) provides University of South Alabama medical students, residents and physicians with medical mission trip opportunities. For students, their participation enables them to hone their medical skills through hands-on experiences while providing medical services to underserved overseas communities.
The year 2017 provided two mission opportunities for USA medical students. In February, eleven fourth-year medical students and five USA physicians spent a month working at Kibogora Hospital in southwestern Rwanda. While there, they worked alongside local physicians in a variety of fields, including surgery, pediatrics, internal medicine, ophthalmology and obstetrics. Kristen Schultz spent much of her time caring for surgical ward patients and scrubbing in for minor procedures. For Carter Tisdale, Rwanda marked his fourth medical mission trip. Carter explains his continued participation, "…being a healthcare professional gives you a passport into people's lives and these trips serve as a reminder of the relational aspect of patient care."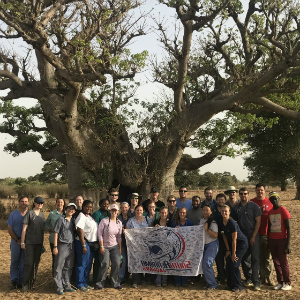 In June, twenty first- and second-year medical students, along with USA residents and physicians, spent ten days outside of Dakar, Senegal (pictured right). They had no access to a hospital, but rather saw patients in a makeshift, outdoor clinic. Despite the lack of resources, our students were impressed by the hospitality offered and the strong sense of community they found there. Travis Goodloe (Class of 2020) believes that through USA's outreach programs students are actually able to live the USA Health Mission. Says Goodloe, "We are able to foster our skills and bring them back to this community." Joseph Cortopassi (Class of 2020), added that he tends to get wrapped up in school and grades and that the trip was a good reminder of his passion to help people.
Dr. Keith Peevy, a neonatologist at USA Children's & Women's Hospital and longtime veteran of USA medical mission trips highly recommends that both students and physicians participate. He explains, "The opportunity for personal growth is not something one can foresee, but its occurrence is virtually certain…you come back changed."
Plans are already underway for 2018 mission trips.