RN to BSN Pathway
The University of South Alabama College of Nursing's RN to BSN Pathway is especially designed to meet the needs of Registered Nurses desiring a Bachelor of Science in Nursing degree.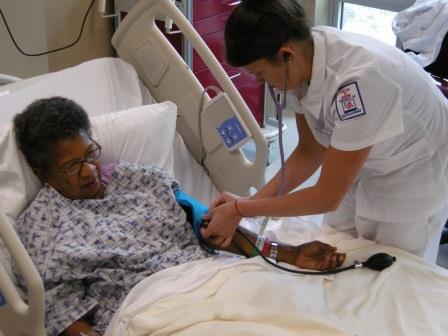 The RN to BSN Pathway is designed especially for Registered Nurses (RNs) pursuing the Bachelor of Science in Nursing Degree. The college also offers a Pathway for diploma and associate degree RNs who want the MSN degree (see the RN to BSN/MSN Pathway page).
Once prerequisites are completed the professional component of the nursing curriculum can be completed in one calendar year. Courses are offered online and practice integration requirements can be completed in the student's home community. Thirty-six hours of nursing credit are awarded the semester students graduate.
The curriculum consists of two separate components.
The Pre-Professional Component consists of nineteen (19) prerequisite courses, which total 61 semester hours. These general education courses may be completed at any accredited institution. The general education courses must be completed prior to beginning the Professional Component.
The Professional Component consists of nine (9) nursing courses (for a total of 31 semester hours) and all nine courses must be completed as a student at the University of South Alabama. Upper division nursing courses taken at another institution will not transfer or apply toward the total of 31 semester hours of nursing coursework required by the USA College of Nursing. Students must complete the Professional Component within five years.
Residents of South Dakota and New York:
Prospective Applicants from South Dakota and New York must first contact the RN-BSN Advising Office PRIOR to beginning the Nursing Application Process for this online nursing program.
Information for Prospective Students
Frequently Asked Questions for Registered Nurses
Timeline for RN's Planning to Apply to the RN-BSN Program
Prerequisite Course Requirements for Admission to the Professional Component
Nursing Course requirements in the Professional Component of the Online RN-BSN Pathway
Nursing Application Packet & Deadline Information for the RN-BSN Pathway
Health Requirements for students who are admitted into the Professional Component
2018-2019 Tuition & Fees Schedule for Online/Web Nursing Courses
2018-2019 Booklist for Currently Enrolled RN-BSN Students
RN to BSN Pathway Admissions
Students applying for the Online RN to BSN Pathway must complete each of the following to be considered for Admission to the College of Nursing:
1. Complete all (19) required undergraduate prerequisite courses required for the BSN curriculum, which totals 61 semester hours of college credit.
Note: Prospective students MUST have all (19) college courses completed PRIOR to beginning the Professional Component of the RN-BSN Pathway. You may complete these in your hometown area, at an accredited institution and transfer these (19) college courses to USA.
2. You must first apply for Undergraduate Admission to the University of South Alabama for the same semester you plan to begin the Professional Component of the RN-BSN Pathway. You should apply as a Transfer Student, majoring in Pre-Nursing on your Application for Undergraduate Admissions.
3. Once you are admitted as a USA Undergraduate Transfer Student by the USA Office of Admissions, you should then submit the RN-BSN Nursing Application Packet, by the posted deadline, with the $50 Nursing Application Fee. Students are admitted without regard to race, color, creed, sex, or qualified handicap/disability.
Admission Criteria for the RN-BSN Pathway:
1. Submission of a completed RN-BSN Nursing Application Packet, with a $50 fee, by the deadline.
Application Deadlines for RN-BSN Pathway:
April 1 for Fall Semester;
August 1 for Spring Semester.
Late Applications are accepted, based on space availability.
2. Minimum GPA of 2.50 on all (19) required prerequisite courses and in good standing within the University.
3. Minimum University GPA of 2.0
4. Minimum grade of "C" in all (19) required prerequisite courses.
5. Submission of all required medical information and evidence of health insurance.
6. Evidence of CPR certification.
7. Admission will be contingent on a negative drug screen and no adverse findings on a background check. Admitted students will be sent information for completing the requirements. Students are responsible for costs related to the required admission background check and drug screen.
8. Completion of an accredited diploma or associate degree in nursing and a current registered nurse licensure with no restriction. Restrictions includes participation in voluntary discipline programs.
9. Students are responsible for all costs related to monitoring/proctoring tests and identity authentication when required by a course.
Health Requirements
Students accepted into this BSN program in the College of Nursing are required to complete all requirements under Medical Documents Manager as listed on the Health Requirements Webpage at http://www.southalabama. edu/colleges/con/clinical/ healthrequirements.html. All requirements should be completed no later than one month prior to the first day of classes for the professional component. Students are not required to order a Castle Branch account until they have been accepted into the professional component.
Contact Information
Dr. Pam Johnson - Program Coordinator
Email: pamjohnson@southalabama.edu
Leigh Holland - RN-BSN Academic Advisor
Email: lholland@southalabama.edu