Beta Gamma Sigma Inducts New Members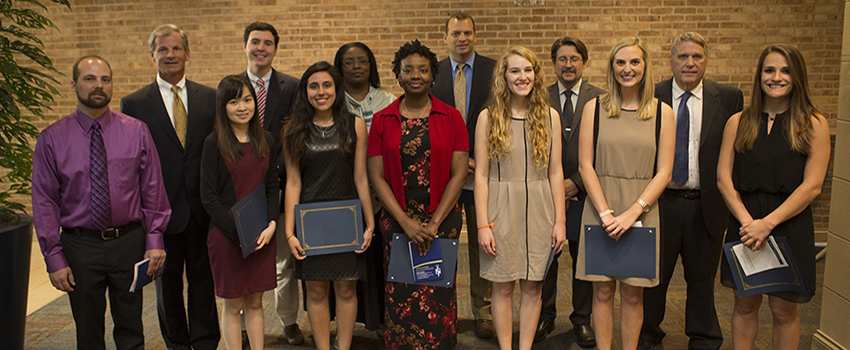 In April the MCOB Chapter of Beta Gamma Sigma initiated 15 new members. Founded in 1913, the first national honor society in business is an international honor society that provides the highest recognition a business student anywhere in the world can receive in an undergraduate or graduate program at a school accredited by AACSB International.
The mission of the International Honor Society Beta Gamma Sigma is to encourage and honor academic achievement in the study of business, to cultivate and celebrate leadership and professional excellence, to advance the values of the Society, and to serve its lifelong members.
The Society's mission is supported by four objectives:
1) Encourage and honor academic achievement by students of business and management through chapters in business programs accredited by AACSB International.
2) Develop Beta Gamma Sigma members as student and professional leaders, and celebrate continuing leadership and excellence.
3) Foster in Beta Gamma Sigma members an enduring commitment to the founding principles and values of the Society: honor and integrity, pursuit of wisdom, earnestness, and service.
4) Connect Beta Gamma Sigma student and alumni members to each other and to opportunities in their professional lives.
This year's inductees left to right are:
Michael Patterson, Dr. Alan Whaley, Ca Wen Lee, Paul R. Haulard, Gabriela Vargas-Uribe, Dr. Gwendolyn Pennywell, Tracy Letitia Charles, Joseph R. Huettemann, Alissa Nicole Hadden, Paul Hanebuth, Caroline Corte, Dr. James Swofford, and Julianne Harkness.
Inductees not included in the photo are Nicholas Blakley and Heather L. Cole,