Alumni Spotlight: Andrew E. Byrd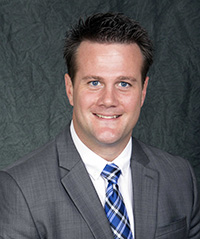 It is hard to pinpoint when and where my endearment for the University of South Alabama, "South" as we say, began. Both of my parents earned masters' degrees from USA in the 1970's. I personally have been involved with South for almost 18 years. My earliest memory of USA's presence in my life is of my mom completing her Principal and Administrator Certification in 1995. I was in high school at the time and beginning to consider colleges. I remember how proud we all were that she could advance her career into the role of principal with Mobile's school system. That was when I first considered attending South, but I did not foresee the circuitous route I would end up traveling.
My first year of college, I was intent on a medical degree but decided to change course. When I enrolled at USA in 1999 I had no clue what I wanted to "be," but, I was drawn to the Quality and Systems Management major at the Mitchell College of Business (MCOB). I worked my way through my higher education pilgrimage, starting that Fall with an entry-level operator position at ResponseAbility, a local in-bound call-center of approximately 40 employees. I was promoted to General Manager by the time I graduated from the MCOB in 2003, and I owe that advancement to the MCOB and its faculty. It was truly remarkable how the education I was receiving during that time was real-time, real-world applicable to what I was experiencing at ResponseAbility. I remember asking my manager for approval to conduct S.W.O.T. analysis on the company; to do time-and-motion studies to try to decrease queue time and enhance operational efficiency; and to survey volunteers for organizational behavior studies. She indulged the eager undergrad in me, creating an invaluable experience: real-world application in the workplace of what I was learning in the classroom. Equally as critical was the support of the MCOB faculty, who so selflessly allowed me hours of time to ping ideas off of their expertise and ask for feedback. I am forever grateful.
After graduating in 2003 I went straight into South's MBA program while continuing to work at ResponseAbility. When the call-center underwent acquisition in 2004, I joined my brother at American General Life and Accident as a supplemental worksite benefits sales Agent, eventually rising to an Associate Manager with my own staff of six. While this position drastically improved my soft skills with people, it also allowed the opportunity to network with local business owners in the Gulf Coast region. I was constantly applying the quantitative and qualitative management skills developed from my MCOB experience to better lead my staff and manage our business plans, as well as to help my clients think about ways to enhance their businesses. In 2007, I completed my MBA, had a new born son and a daughter on the way. As if parenthood wasn't tough enough, I decided to revisit my decade-ago interest in a medical field related career. I looked to my alma mater first and applied to USA College of Medicine's Basic Medical Sciences Doctorate Degree program. I remember interview day quite well. Suffice it to say, the interviewers were gracious enough to give me a chance, and for that I am thankful. Entering the PhD program I knew I was further behind than my classmates, each of whom had been in science programs for the previous several years. I was a business person in a medical school. It was a bit intimidating but I always enjoy a challenge. And, comparable to my MCOB experience, the USA research faculty went above and beyond the role one might expect of an educator or mentor. As such, my PhD efforts resulted in four publications, two conference presentations and a research grant from the Mitchell Cancer Institute. Approaching graduation in 2012, I was contacted by USA's Office of Commercialization and Industry Collaboration because they were looking to hire a Licensing Associate with both a business and a medical research background. I had been recommended for the position by a USA faculty member. As it turned out, the perceived disadvantage I had going into the PhD program five years earlier was actually a competitive advantage in the world technology transfer, in which the ability to articulate in both research and business terms is critical. I was fortunate enough to be hired in early 2013. Now, four years later, I am blessed to be the Director, have a phenomenal staff and a newly implemented duel intern program, and absolutely love what I do and why I do it. Our office functions in a "triple helix" consisting of academia, industry and government agency. We manage the University's intellectual property portfolio, primarily patents. We also are integral in licensing technology, navigating industry collaborations and working with USA spin-offs and start-ups. Now I help and serve the very mentors who guided me through my academic and professional career. I also have the opportunity to truly enhance the University's economic impact on Mobile, the Gulf Coast Region and the State of Alabama.
So, when I say it is hard to pinpoint when and where my relationship with the University of South Alabama began, it is because for most of my life South itself has been my personal and professional journey, not just a part of it. South encouraged me to challenge my notion of who I wanted to be as a professional, emboldened me to explore the expanse of possibilities, and provided a supportive environment that rewarded hard work with success. To me, South is family. There aren't enough words to express how proud I am to be working for the very institution that has been integral in preparing me for life. Thank you for the opportunity to tell my story for the Mitchell Report. Go Jags!
Andrew "Andy" Byrd has earned three degrees from the University of South Alabama
BS- Business Administration, Quality and Systems Management, Cum Laude, Beta Gamma Sigma inductee – May 12, 2003
MBA – July 27, 2007
PhD- Basic Medical Sciences – December 13, 2012