MCOB Experience Station Goes Live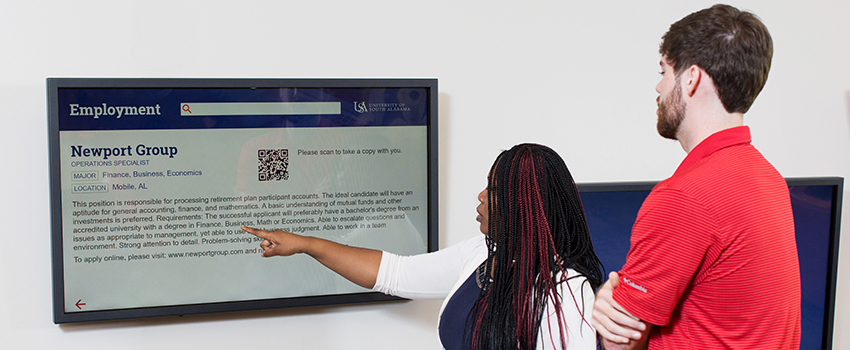 Recognizing it takes more than a college degree to have a successful career, the Mitchell College of Business is dedicated to giving students the tools they need to reach their goals. To do this, we partner with businesses in our one-of-a-kind Professional Readiness Engagement Program (PREP) to assist students in exploring and selecting careers. The latest addition in this effort is the "Experience Station," a new internship and employment search technology created exclusively for Mitchell students. The Experience Station is located in the Joseph and Rebecca Mitchell College Learning Resource Center on the 2nd Floor of the Mitchell College of Business.
The touchscreen monitors allow students to search openings for jobs and internships by students' major, by company name, geographical location, and semester. Students can then go directly to the company's website to apply by scanning a company-specific QR code or by using the contact information on the posting. This is another way the Mitchell College enables students to develop their business knowledge and professional skills and connect them with experiential learning opportunities, for an advantage in the job market. New opportunities are posted daily.
Employers can post part-time and full-time jobs and internship opportunities targeting students in specific majors. By partnering in this program, employers can share their knowledge so upon graduation MCOB students are prepped for the workplace. By participating in PREP, you are developing your future workforce and gaining access to our best and brightest.
There is no charge to use the posting service. To post your company's job openings, contact the Professional Readiness Engagement Program at (251) 341-3081 or PREP@southalabama.edu.
Our students are 'job-ready.' Businesses can rest assured that we've prepared our students to transition into the workplace.