Executive in Residence Spring 2017 - Mr. Jake Gosa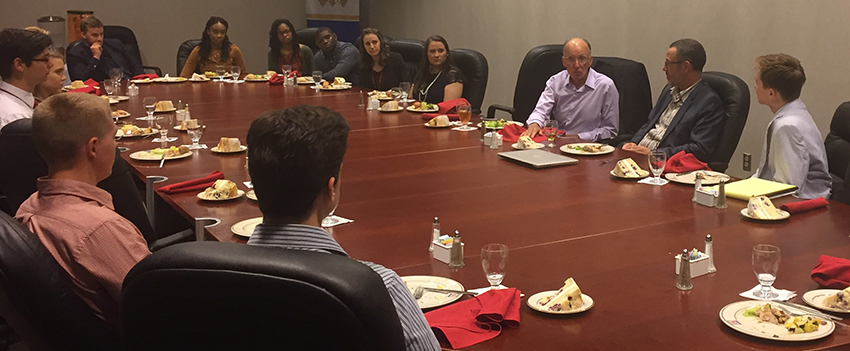 Mr. James J. (Jake) Gosa joined the Mitchell College this spring as our Executive in Residence. Mr. Gosa is the former Chairman of the Board and Chief Executive Officer of American Woodmark. American Woodmark manufactures kitchen and bath cabinets for new home construction and remodeling projects that are sold through homebuilders, independent dealers and distributors, and major retailers including Lowe's and The Home Depot. Prior to American Woodmark, Mr. Gosa spent 18 years in sales, marketing, and operational positions with Owen-Corning Fiberglas and the Thomas Somerville Company. Mr. Gosa earned his Bachelor of Science degree in marketing from the College following his service with the United States Army.
While on campus, Mr. Gosa spoke to graduate and undergraduate classes on topics including strategy, leadership, managing people, business to business marketing, and family business. In addition, he participated in luncheon discussions with PREP freshmen, Mitchell Ambassadors, and Mitchell Scholars. Mr. Gosa said of his experience, "The fact that I was able to return to the campus as a guest lecturer speaks to the role that the university played in whatever success I enjoyed. Returning to the classrooms where I once sat, enables a special connection with the students."
Second-semester freshman Devin Johnson said, "The Executive in Residence program is great; the executives have real-world knowledge that you can't just ask the regular business person about. Mr. Gosa came into his company as a VP of Marketing & Sales and became a CEO. That's motivational. He honed in on the long term vision you need to hold a position like CEO. The whole concept was kind of abstract to me, I just knew they were paid a lot. He really clarified and brought me understanding of what a CEO does and how they have to handle tough situations. When things hit the fan, they are the ones who have to turn it around."
Madison Douville, a Mitchell Scholar, added, "Mr. Gosa emphasized that the practices of keeping high morals, a balanced life, and looking for something positive every day are the keys to having a happy successful life."
Mr. Gosa was named to the initial Mitchell College of Business Alumni Fellows class during his visit. He currently serves as Chair of the Parish Council, St. Michaels Parish in Amelia Island, Florida and is a former Trustee of the Burke Mountain Academy and member of the Economic Development Council of Virginia.