Neuroscience of Leadership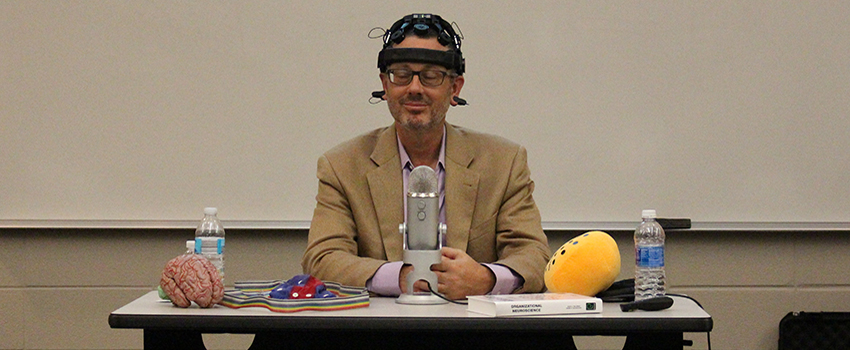 On Friday (02.24), Drs. David Waldman, Professor of Management, Arizona State University; Pierre Balthazard, Dean, College of Business, California State Sacramento; and Craig Pearce, Ben May Distinguished Professor of Management, MCOB presented "The Neuroscience of Leadership."
The researchers explained how they utilize a brain mapping protocol based on three electrophysiological measures: frequency and amplitude of brain activity, the location of brain activity, and the pattern of connectivity across areas of the brain.
Although many assume that brain functioning can be studied best when our brains are activity engaged in an task, Dr. Waldman explained that the neural patterns found when the brain is at rest reflect its core functionality and the inherent and stable brain functioning capacity of an individual: Intrinsic leadership capacity is best identified when an individual is awake, but resting.
To demonstrate the procedure, Dr. Pearce was connected to a quantitative electroencephalogram (qEEG) to observe his brain activity. The equipment consists of a portable cap that is fitted over the person's head, along with computer hardware and software. The system is entirely wireless, and can generate a real time report in minutes.
Research on the neuroscience of leadership is in its infancy but these researchers have already documented important insights into the neurology of leaders. More importantly, they are embarking on a program of research to put us at the University of South Alabama at the forefront of the neuroscience of leadership. Ultimately the team wants to develop leadership interventions to help leaders enhance productive thought patterns for themselves and others. "The scientific horizon looks very exciting," proclaimed Dr. Pearce.