Student Spotlight Ashton Phillips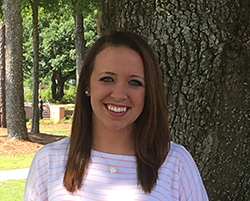 My name is Ashton Phillips and I am a senior majoring in Accounting. I transferred to South Alabama from Faulkner State Community College to pursue a dual degree in education and science. After a few classes, I realized education wasn't for me. I love science and enjoyed all the classes I was taking, but I wasn't sure how I was going to incorporate that into a career. While I was still deciding what career path to take, I came with a friend to the Mitchell College of Business and immediately fell in love. I changed my major and started business classes the next semester. As soon as I took my first accounting class, I knew that was exactly the career I wanted to pursue. My accounting professors had a huge impact on my decision and were very helpful in mapping out my remaining semesters. I know that changing my major to business is one of the best decisions I ever made.
During my first year at South Alabama, I was a member of the cheerleading team. I had been a cheerleader all my life and making a college team was a goal of mine since I was 5 years old. I gained a lot of friends through cheer and learned a lot about myself along the way. While cheerleading was my main hobby growing up, I also enjoy the outdoors. I love to go hunting and fishing, riding four wheelers, and being on the water.
For the past year and a half, I have worked in the Student Services office on the first floor of the MCOB. I have had the pleasure of working with many faculty and staff members who taught me a lot about this college and life, while encouraging me along the way.
As I finish my last semester, I can't help but to look back and reflect on the time I spent here at this wonderful college. I have friendships that will last a lifetime and memories I will cherish forever. I am so grateful to be a part of such a wonderful program and on May 7th being able to say "I'm a graduate of the University of South Alabama!" Go Jags!!