Professional Readiness Engagement Program – First year is a great success!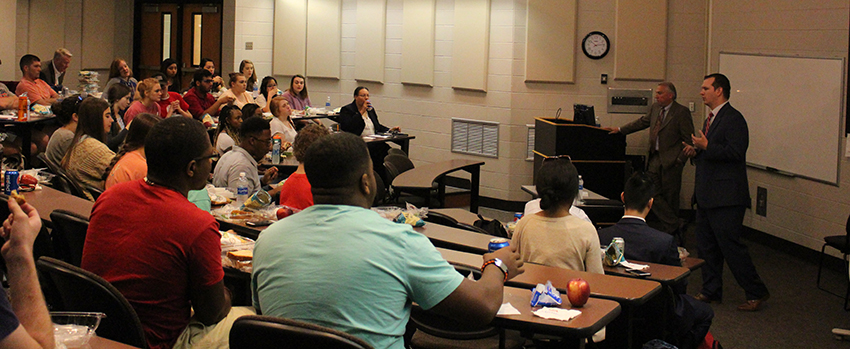 The Professional Readiness Engagement Program, or PREP, is completing an impactful inaugural year. PREP is designed to meet the professional development needs of undergraduate students majoring in business by delivering high quality experiential activities to help students identify career options and prepare for the workforce. The students, faculty and staff in the Mitchell College of Business are grateful for Mr. Mitchell's support of the PREP program; without his generosity, PREP would not be possible. We also thank all the companies, not-for-profit organizations and business leaders who have supported and participated in PREP events this year.
The First PREP Course
PREP initiatives in the inaugural year include the first offerings of BUS101: Professional Experience I, the first in a required sequence of three career preparedness courses, which is offered in conjunction with USA's freshman learning community model. In this model, freshmen students are enrolled in at least three courses with the same cohort. Learning communities allow students to form friendships and share experiences which build bonds that enrich students' learning and engagement, subsequently increasing student retention.
In the first PREP course, students conducted informational interviews with professionals employed in careers students are considering. Students created career portfolios with business cards, resumes, cover letters, thank you letters, career mission statements, a list of professional references, and career plans comprised of actionable items scheduled over the four years to prepare them to transition into the workplace upon graduation. The portfolios were reviewed by the Director of the PREP program, Dr. Sonya Clark, and HR professional, Gia Wiggins.
PREP Advisory Board
The Professional Readiness Engagement Program's Career Advisory Board played a vital role in designing and developing the PREP program. This year the PREP Advisory Board had 22 members, including many alumni of MCOB and USA working in for-profit and not-for-profit organizations.
When asked why he believed in the PREP program, Brent Barkin, CEO of Shoe Station and member of the PREP Advisory Council said,
"I think the PREP program solves what most employers see as a problem with today's education system. Students emerge from many of our fine educational institutions with the intellect to succeed, but lacking in many specific, tangible, well obtainable skills that would prepare them for the world outside of our centers of higher learning. The PREP program fills that gap and allows MCOB to graduate a group of students not only intellectually fortified, but skilled enough to showcase that knowledge to prospective employers. These skills include knowing how to fill out a resume, network, interview, or self-market. By teaching these, the PREP program becomes an invaluable part of the Mitchell College of Business's arsenal of resources that put their graduates a level above that of the competition."
PREP Advisory Board Members
Brent Barkin, Shoe Station
Eunice Mingo Blakely, Franklin Primary Health Center
Mary Caron Downing,Continental Motors, Inc.
David Chilelli, Merrill Lynch
Jeremy Doggett, GAT Airline Ground Support
Angela Dunn,University of South Alabama
James Foley, Fairhope Brewing Company
Chad Hurley, Roberts Brothers
Brad Israel, Elcan and Associates, Inc.
Carla Joyner, First Community Bank
Darcy Kaul, Alpha Omicron Pi
Armondo Love, Wind Creek Hospitality
Carter Miller, Gulf Distributing Holdings, LLC
Michelle Pinochet, Wilkins Miller
Brittany Ramsey, University of South Alabama
Bryan Ross, Target
Craig Savage, Austal USA
Cadie Gault, Payroll Vault
Mark Spivey, BB&T
Jay Stubbs, First Protective
Tim Willis, Boys & Girls Clubs of South Alabama
Experience Station
In October, the "Experience Station," a new internship and employment search technology created exclusively for Mitchell students was installed. The Experience Station is located in the Joseph and Rebecca Mitchell College Learning Resource Center. The touchscreen monitors allow students to search openings for jobs and internships by students' major, company name, geographical location, and semester. Students can then go directly to the company's website to apply by scanning a company-specific QR code or by using the contact information on the posting. Employers can post part-time and full-time jobs and internship opportunities targeting students in specific majors. There is no charge to use the posting service.
Special Presentations
PREP offers a continual schedule of professional development activities and events, often collaborating with other MCOB entities to provide educational experiences. In October the PREP program joined the Melton Center for Entrepreneurship and Innovation (MCEI) to host an impactful presentation by employees from BBVA Compass who discussed financing a business start-up covering topics such as how and where to get initial funding for your business? What banks look for when lending money to new businesses? What is a line of credit? The audience included non-traditional students who already own businesses and students who were interested in starting their own businesses.
MBA Student, Michael Baker presented two technology workshops: "Empower Your PowerPoints" and "How to Shoot and Edit Video for Presentations."
Gia Wiggins, HR Consultant, presented "Do's and Don'ts of Social Media."
David Chilelli, Financial Advisor for Merrill Lynch, Pierce, Fenner & Smith, spoke with students about "The Importance of Internships."
Resume Workshops are conducted every month by the Director, Dr. Sonya Clark who works with students to improve their resumes and discusses how to write cover letters and complete application packets.
Pre-internship Meetings are offered each semester to inform students on how to find and apply for internships, internships appropriate for the student's major, employer expectations on the job, and MCOB expectations.
2nd Story Business offers businesses the opportunity to provide information and answer questions about their industries and to inform students of the knowledge and skills needed for success. Representatives can review resumes to identify prospective interns and employees. We appreciate the following organizations participation in 2nd Story Business:
Boys & Girls Clubs of South Alabama, Tim Willis, CEO
Keller Williams Realty, Melissa Strickland
Gulf Distributing,

Carter Miller, Director of Sales Intelligence and

Suzanne Donaghey, HR Manager,
Pen Air Federal Credit Union, Tammy Fluharty
Farmers Insurance Group, Anne Marie Johnson
PCH Resorts (Renaissance Battle House Hotel & Spa, Riverview Plaza Hotel, and Grand Hotel & Spa) recruiters, Kelly Marsh and Tammy Lowe
Lunch & Learn Events
The Lunch & Learn series is the perfect event for professionals to deliver information on their company, staffing needs, or a business topic they deem is important for those interested in business. The following topics were presented to students in the Lunch & Learn Events this year:
Careers in Real Estate by Melissa Strickland, Keller Williams Realty
Myth of the Millennial in the Workplace by Carter Miller, Director of Sales Intelligence and Suzanne Donaghey, HR Manager, Gulf Distributing Holdings, LLC
A Day in the Life of a Sales Person by Emily Rice, Sherwin-Williams
Top 10 Interview Tips by Tammy Fluharty and Dana Mullins, Pen Air Federal Credit Union
The Importance of Open-Mindedness and Networking by Owner, Farmers Insurance Agency in Daphne
The Internship Experience as told by Two MCOB Students Victoria Huckabee and Darcy Bross
Branding Yourself and Your Company: Lessons Learned by Karen Simons, owner Karen Simons, CPA and Cadie Simmons, Payroll Vault
Marketing and Recruiting for a Start-up Business by Luke Brietzke and Thomas "Will" Hudson, Farmers Insurance
What Managers Want to See on Your Resume by Jennifer Busby, HR Manager, SSI Group
Interviewing Tips for the Savvy Student by Mark D. Wood, VP of HR, Regions Bank
National Career Development Week
This year, PREP spearheaded events for the Mitchell College of Business to celebrate National Career Development week (November 14-18, 2016), by dedicating an active week of career preparedness events including guest speakers, forum panels, mock interviews, and other professional portfolio building and image branding activities. Members from the MCOB Dean's Executive Advisory Council presented three concurrent panel discussions as part of the week's events:
"How to Get Hired"
Sandra Koblas; Dir. of HR - Austal USA
Andy Newton; President & CEO – Southern Light
Lori Harper; VP, Supply Chain Management – Ingalls Shipbuilding
"How to Get Promoted"
Bubba O'Gwynn; Market President – BB&T Bank
Janet Hayes; COO – Leavell Investment Management
Gavin Bender; President – Bender Real Estate Group
"How to Not Get Fired"
Allen Ladd; VP – Thames Batre Insurance
Alan Alexander; Attorney – Helmsing Leach Attorneys at Law
Gilbert Dukes III; Attorney - Coale, Dukes, Kirkpatrick & Crowley, P.C.
Melissa Morrissette; VP/ Owner – LLB&B, Inc. Real Estate
In addition, Brad Israel, US Army Special Forces Detachment Commander and Director of Development for Elcan & Associates, and member of the PREP Career Advisory Board was also a guest speaker during the week, presenting on "Leadership Moments: What is Your Legacy Going to Be?"
Marc DuPoint, MBA student and professional photographer, provided free headshots for students for their bios and LinkedIn pages.
The following business professionals donated their time to conduct mock interviews for MCOB students:
Leslie Beard, General Manager, C.H. Robinson Worldwide, Inc.
Jennifer Busby, HR Specialist, SSI Group, Inc.
Brittaney Camp, Lead Recruiter, Austal USA
David Chilelli, Financial Advisor, Merrill Lynch, Pierce, Fenner & Smith
JoAnna Herring, Operations Manager, Newport Group
William Jamar, District Manager, Alabama Department of Revenue
Kim Lenaghan, Learning Technology Representative, McGraw Hill Higher Education
Kelly Marsh, Talent Acquisition, Grand Hotel Marriott Resort, Golf Club & Spa/PCH Resorts
Ryan New, Commercial Relationship Manager, BBVA Compass
Tasha Quinnelly, Account Executive, Colonial Life
Shellie B. Teague, Social Media & Public Relations Strategist, Teague Branding Strategies
Lee Weldon, Associate Director, USA Development Office
Students and faculty extend our THANKS to all the volunteers who have helped make the inaugural year for PREP a great success! To participate in PREP or post job/internship opportunities, please contact PREP@southalabama.edu.
Contributed by Dr. Sonya Clark, Director Professional Readiness Engagement Program.