First-ever MCOB Sales/Marketing Career Expo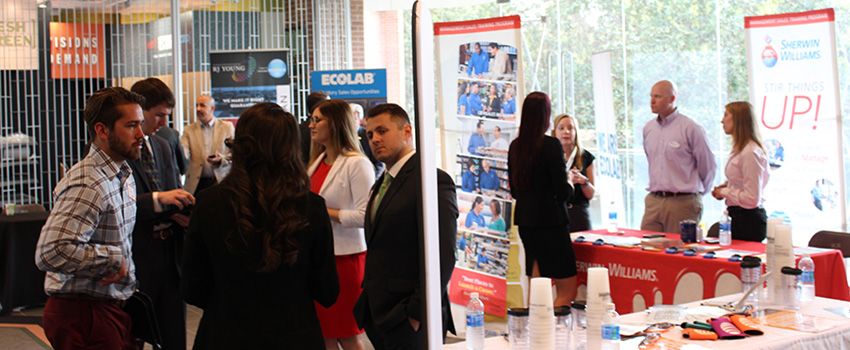 The first-ever dedicated Sales/Marketing Career Expo at USA was held in the MCOB on March 31, 2016. Over fifteen national and regional firms visited the MCOB to recruit sales and marketing talent. The fair was open to all students interested in sales careers. Some of the employers commented that the MCOB event, while the first of its kind on this campus, was in many ways comparable to institutions with a long history of similar career fairs. The Expo was a joint effort of the PREP Office and USA Career Services.

The sales/marketing career fair resulted from the MCOB receiving a $2,500 grant from the Enterprise Holdings Foundation in November 2015. The grant's purpose was to encourage the development and implementation of a Sales Career Expo at the University of South Alabama. The Sales Career Expo offered a structured and targeted approach to matching quality sales students with job opportunities in the sales and marketing arena. The Sales Career Expo represents a critical component of coordinated efforts to offer the most prepared and well-equipped student product possible for an ever-competitive sales job marketplace.

The Sales Career Expo complements the newly-formed Professional Sales Concentration in the MCOB, by providing a venue for students to interface with sales professionals that reinforce classroom concepts through their sharing of actual sales and business experiences. Consistent with the goals of the MCOB, the Sales Career Expo undergirds initiatives to ensure student success beyond college by equipping them with the tools required for professional achievement in global business environments.

Contributed by Dr. Alvin Williams, Distinguished Professor, Department of Marketing, MCOB