MCOB students present at the Annual SOBIE Conference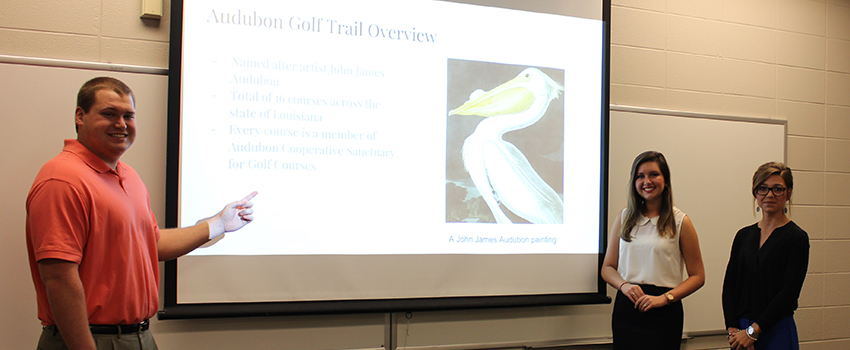 Six MCOB students presented their research at the Society of Business, Industry, and Economics (SOBIE) 18th Annual Conference on April 12 – 15 in Destin, Florida. The SOBIE mission is to encourage business faculty members and their students to respond to current economic and market issues, and find practical solutions to the many problems business people and public policymakers confront.
Audry Hofer, presented her research titled, Does Strong Corporate Governance Provide Better Returns?
Corporate governance deals with the agency problem: the separation of management and finance. Corporate governance seeks to answer one fundamental question, which is how to assure financiers that they get a return on their financial investment. Studies argue that "a good corporate governance system should combine some type of large investors with legal protection of both their rights and those of small investors".
The purpose of this study is to analyze three specific firms and determine if stronger corporate governance do result in higher returns. I compare these firms to expected industry average and control for typical firm characteristics. I then employ commonly used proxies for governance and ascertain whether or not they provide any explanatory power for abnormal returns.
Taylor Keith, Clay Machen, and Carianne Wright presented their research titled, Public Access Golf - A Review of Two Statewide Trails
The consolidation of golf courses into large, trail –style groups has grown over the last decade. Several gulf coast states have these golf groups that provide access to multiple courses throughout the state to golfers looking to play different courses in various locations. Two of these states are Alabama and Louisiana. The Robert Trent Jones Trail in Alabama and the Audubon Golf Trail in Louisiana are compared.
In the comparison, we look at the marketing strategy, the courses and locations, and the productivity (rounds played per year) for both trails. Our investigation will look to find similarities and differences between these two trail style organizations. An overall understanding of these organizations will lead to a better understanding of how trail type golf organizations perform in general.
Rebecca Tang' s research presented was titled, Stock Pricing Volatility - Measuring Return Volatility with Historical High Frequency Data
Market Volatility has been investigated at great lengths over the past decade or more, but an underlying drawback to the research has been that the majority of the research has focused more on index return volatility, while little has been done in the areas of individual equity/stock return volatility. We will look to the 30 individual stocks that make up the Dow Jones Industrial Average for this investigation, using tick by tick data from June 2015 through February 2016.
This research will look at first identifying realized volatility, the measured variation of stock returns, based on high frequency data. Several estimation methods will then be reviewed to determine a closest/best fit estimator to the true realized volatility. The comparisons will include MAD, MSE, and Pitman Closeness.