About the Book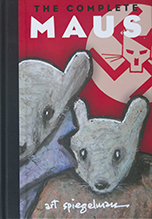 The Pulitzer Prize winning Maus tells the story of Vladek Spiegelman, a Jewish survivor of Hitler's Europe, and his son, a cartoonist coming to terms with his father's story. Maus approaches the unspeakable through the diminutive. Its form, the cartoon (the Nazis are cats, the Jews are mice), shocks us out of any lingering sense of familiarity and succeeds in "drawing us closer to the bleak heart of the Holocaust" (The New York Times). Maus is a haunting tale within a tale. Vladek's harrowing story of survival is woven into the author's account of his tortured relationship with his aging father. Against the backdrop of guilt brought by survival, they stage a normal life of small arguments and unhappy visits. The astonishing retelling of our century's grisliest news is a story of survival, not only of Vladek but of the children who survive event the survivors. Maus is acclaimed as "the most affecting and successful narrative which has ever been done about the Holocaust" according to the Wall Street Journal. The New Yorker calls it "the first masterpiece in comic book history."
About the Author
Perhaps best known for his masterful Holocaust narratives MAUS and MAUS II (The Complete Maus)– which in 1992 won a Pulitzer Prize–Art Spiegelman is one of the world's best known and beloved comic artists.
Born in Stockholm in 1948, Spiegelman rejected his parents' aspirations for him to become a dentist, and began to study cartooning in high school and drawing professionally at age 16. He went on to study art and philosophy at Harpur College before joining the underground comics movement. As creative consultant for Topps Candy from 1965-1987, Spiegelman designed Wacky Packages, Garbage Pail Kids and other novelty items, and taught history and aesthetics of comics at the School for Visual Arts in New York from 1979-1986.
In 1980, Spiegelman together with his wife founded RAW, the acclaimed avant-garde comics magazine. From 2000 to 2003, the pair published three "Little Lit" hardcover anthologies of comics for children by contemporary artists. In 2009, they edited the "TOON Treasury of Classic Kids Comics", defining a new canon of great comics for children. Spiegelman's work has been published in many periodicals, including The New Yorker, where he was a staff artist and writer from 1993-2003. He has authored the children's book "Open Me… I'm A Dog" and the early reader comic TOON Book, "Jack and the Box".
How Do I Get the Book?
Students: Copies are available for purchase at the USA Bookstore and at your local bookstore. Copies are available for loan at the University Marx Library.
Students with Disabilities: If you are a student with a documented disability and wish to request this text in an alternate format, please contact Student Disability Services at (251) 460-7212. No alternate format copies will be supplied without proper documentation.
Faculty and Staff:
If you are interested in participating in this program or reviewing the text, please email
commonread@southalabama.edu
.