About the Book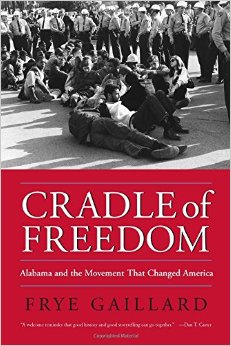 Cradle of Freedom puts a human face on the story of the black American struggle for equality in Alabama during the 1960s. From the Montgomery bus boycott, the Freedom Rides, the Letter from the Birmingham Jail, the bombing of the 16th Street Baptist Church, Bloody Sunday, and the Black Power movement in the Alabama Black Belt, this history tells how ordinary people rose to the challenges of an unfair system with a will and determination that changed their times forever. It is a fascinating and extraordinary story that Gaillard tells with the dramatic flow of a novel, yet it is based on meticulous research.
About the Author
Frye Gaillard, writer in residence at the University of South Alabama, has written extensively on southern race relations, politics and culture. He is former Southern Editor at The Charlotte Observer, where he covered Charlotte's landmark school desegregation controversy, the ill-fated ministry of televangelist Jim Bakker, the funeral of Elvis Presley, and the presidency of Jimmy Carter. Gaillard has written or edited more than twenty books, and his award-winning titles include the following: Cradle of Freedom: Alabama and the Movement That Changed America; The Dream Long Deferred: The Landmark Struggle for Desegregation in Charlotte, North Carolina; Watermelon Wine: The Spirit of Country Music; If I Were a Carpenter: Twenty Years of Habitat for Humanity; Prophet from Plains: Jimmy Carter and His Legacy; and As Long As the Waters Flow: Native Americans in the South and East. Gaillard now lives on the Alabama Gulf Coast with his wife, Nancy, who teaches in the College of Education at the University of South Alabama.
How Do I Get the Book?
Students: Copies are available for purchase at the USA Bookstore and at your local bookstore. Copies are available for loan at the University Marx Library.
Students with Disabilities: If you are a student with a documented disability and wish to request this text in an alternate format, please contact Student Disability Services at (251) 460-7212. No alternate format copies will be supplied without proper documentation.
Faculty and Staff:
If you are interested in participating in this program or reviewing the text, please email
commonread@southalabama.edu
.
"This project is supported by a grant from the Alabama Humanities Foundation, the state affiliate of the National Endowment for the Humanities."