About the Book & Authors
About the Book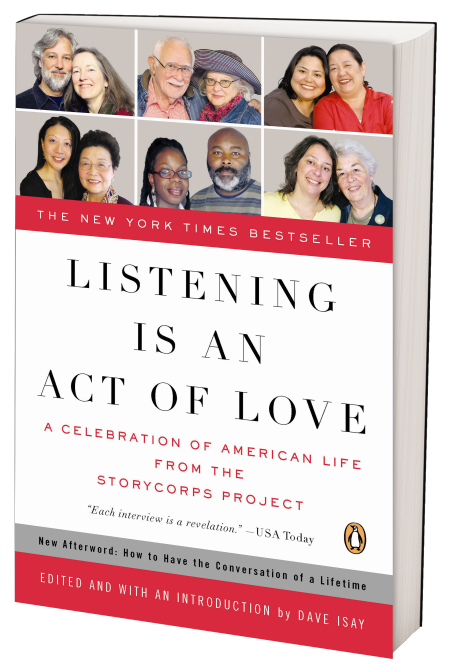 Listening is an Act of Love: A Celebration of American Life from the StoryCorps Project
First published in 2007, "Listening" was selected after much deliberation by a committee composed of USA faculty, students and staff. Fifteen titles were reviewed during the process.
"Listening" fits the parameters established for USA's Common Read; including the following:
• Potential to engage students and spark discussion
• Appeal to a wide range of students
• Possibilities for classroom use, including the First Year Experience classes
• Inclusion of cross-cultural education, awareness, knowledge, and sensitivity
• Possibilities for campus programming
• Relevance for student life
Other institutions who have used "Listening" include the University of Mississippi, UNC Charlotte, Iowa State University, University of Toledo, and Evergreen State College.
How Do I Get the Book?
Students: Copies are available for purchase at the USA Bookstore and at your local bookstore. Copies are available for loan at the University Library.
Students with Disabilities: If you are a student with a documented disability and wish to request this text in an alternate format, please contact Student Disability Services at (251) 460-7212. No alternate format copies will be supplied without proper documentation.
Faculty and Staff:
If you are interested in participating in this program or reviewing the text, please email
commonread@southalabama.edu
.
About the Editor
Dave Isay is the founder of StoryCorps and its parent company, Sound Portraits Productions. Over the past two decades his radio documentary work has won nearly every award in broadcasting, including five Peabody awards. Dave has also received a Guggenheim Fellowship, a MacArthur Fellowship, and a United States Artists Fellowship. He is the author (or coauthor) of four books based on Sound Portraits radio stories, including Our America: Life and Death on the South Side of Chicago and Flophouse.