Three-Peat! Soccer Wins Sun Belt Title
---
Posted on November 9, 2015 by Marketing and Communications
Marketing and Communications
---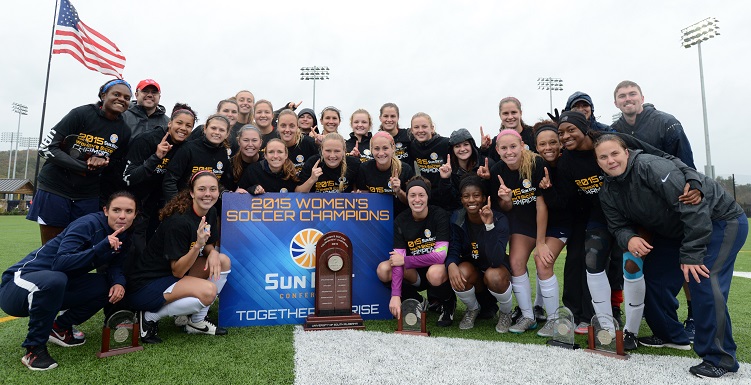 South Alabama's soccer team will advance to the NCAA Tournament after the program won the Sun Belt Conference Tournament title. The Jags have scored 22 goals in their last five matches.
---
EMERSON, Ga. – The University of South Alabama soccer team got a first-half goal from sophomore Rio Hardy (Workington, England), then three more after halftime to defeat Georgia State 4-0 Sunday at LakePoint Sporting Community and win the program's third consecutive Sun Belt Conference Tournament title.
The Jaguars become the first Sun Belt school to win three consecutive tournament titles since Denver in 2006-09. The team, earners of the league's automatic bid, will welcome LSU to The Cage for a first-round NCAA Tournament match Saturday night.
"I'm obviously delighted that we managed to win," USA head coach Graham Winkworth said. "I was really happy because usually at this time of the year, it's about the result and not the performance, but today we put in a fantastic performance and got a fantastic result. I was really happy for the girls; it means a lot to them and to me to lift the trophy again."
It's the biggest win in a Sun Belt final since 2006 when Denver defeated North Texas 4-0. The Jags have scored 22 goals in their last five matches.
"We're scoring lots of goals and they're coming from lots of areas," Winkworth noted. "They really showed up today; it was maybe one of our stronger performances of the season."
South Alabama had five players named to the all-tournament team: sophomore Ashlynn Jones (Pickerington, Ohio), senior Nini Rabsatt-Smith (Montgomery, Ala.), Hardy, sophomore Chardé Hannah (Tupelo, Miss.) and junior Sarah Hay (Waxahachie, Texas). Hannah was named the tournament's most outstanding player.
"All five of them were crucial to our success, but in all honesty, we could have picked anyone that played this weekend," Winkworth said. "Those five humble young ladies would be the first to admit that if it wasn't for the squad that we've got, they wouldn't be receiving those awards this weekend and we wouldn't be taking the big one home."
Hardy and sophomore Danielle Henley (Hattiesburg, Miss.) hooked up at 29:31 to give the Jags all the scoring they would need. Henley eluded a defender at the byline then drove a low cross to Hardy who hit it first-time.
"Danielle made an excellent move to beat somebody on the outside and get to the endline and put it back," Winkworth stated. "It was a great, composed finish from Rio. A lot of times players will put that over the bar, but it was a great finish.
"It settled the team down and that's why it was so important to get a goal in the first half. It settled them down, and because of that, we were able to play a style of soccer that's pleasing to the eye, and I think we controlled possession for 90 minutes."
South Alabama got a quick doublefire three minutes apart in the second half to put the game away. Sophomore Chelsea Followwell (Sachse, Texas) got on the end of a loose ball in front of the net after a corner kick to double the Jags' lead at 60:36, then Hannah took advantage of a defensive miscue for a 3-0 lead at 63:35.
Rabsatt-Smith added to the Panthers' misery in the 85th minute when she headed home a corner kick from freshman Jemma Purfield (Cottingham, England).
Hay made four saves, including a key stop on a breakaway in the first half, then another diving save late in the second half to preserve the shutout.
The USA defense allowed just five shots the entire game.
"We were solid from front to back," Winkworth said. "The forwards worked hard limiting quality longballs from their back line and the midfield pressed extremely well. The defense dropped when they needed to drop and intercepted passes rather than needing to make tackles. Only once did they get in behind us, and when that happened, Sarah pulled off an excellent save on a 1-on-1. All in all, I'm very happy with the defensive performance from front to back."
For more information about South Alabama athletics, check back with usajaguars.com, and follow the Jaguars at twitter.com/WeAreSouth_JAGS. Season tickets for all Jaguar athletic events can be purchased by calling (251) 461-1USA (1872).

---