Student Life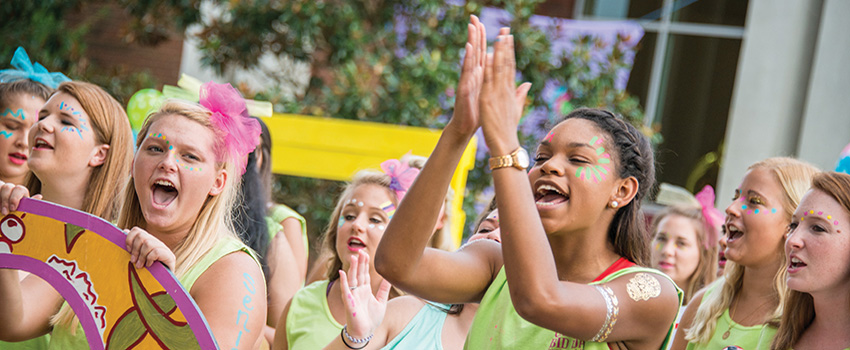 The student population at the University of South Alabama is more than 14,000, representing every state and 55 foreign countries. More than 2,400 students live on campus, and a variety of social, cultural and recreational opportunities are available nearly every day of the week. Admission is increasingly competitive, with the average ACT score for freshmen exceeding national and state averages. Each freshman student is assigned an adviser who helps develop an academic plan tailored to the student's goals and career objectives.
Housing and Residence Life
Students have an array of choices when it comes to on-campus housing, with seven residential communities that encompass 33 residence halls. These communities offer double-occupancy and private rooms, along with apartment-style accommodations with kitchenettes. Each community has recreational and study lounge areas, multipurpose rooms and laundry facilities. The USA fraternity and sorority housing community is made up of 10 houses. Some residence halls are freshmen-only facilities, so new students have a chance to acclimate to campus life among their peers. USA Housing offers more than 330 programs to engage students throughout the academic year.
Clubs and Organizations
More than 230 student-led clubs and organizations are waiting to welcome students. From Greek life to service, professional and athletics organizations, USA offers an extensive and diverse mix of clubs. Intramural sports provide an outlet for competitive athletics and an opportunity to build camaraderie and a sense of community.
Students compete in basketball, soccer, softball, flag football and water polo, among other sports. Games take place in the Student Recreation Center and on the grounds of the Intramural Sports Complex, which consists of six multipurpose, lighted playing fields.
Jaguar Productions
Jaguar Productions is the official University of South Alabama student activities organization dedicated to providing entertaining and educational programs for USA students. Through performances, movies, trivia nights and other activities, Jaguar Productions offers students an opportunity to meet new people, form lasting friendships and enjoy memorable experiences.
Recreation
South offers students many ways to enjoy time outside the classroom – or just outside! The 116,000-square- foot Student South offers students many ways to enjoy time outside the classroom. The 116,000-square-foot Student Recreation Center includes a cardio area, free weights, basketball and racquetball courts, indoor track and soccer field, a 40-foot rock climbing wall, studios for group classes, and both an indoor and outdoor pool. The University's Outdoor Adventures program offers equipment and bike rental along with a variety of planned outdoor activities throughout the year, including canoeing, kayaking, camping and hiking. The Student Government Association Sports Complex is available for use by University students and staff, and includes a pavilion, sand volleyball courts, horseshoe pits and barbecue grills. A series of bike trails, along with the Glenn Sebastian Nature Trail and the Jag Fitness Trail, provide a great setting for those who like to bike, walk or jog.