Emergency & Weather Alerts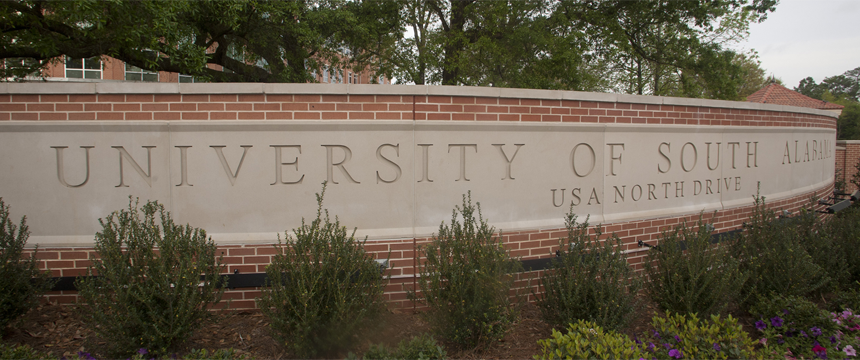 Emergency Information at USA
Update: 3 p.m., Friday September 18
The University of South Alabama will reopen the main campus for classes and activities beginning tomorrow, Sept. 19. University leadership understands that many of you continue to face significant impacts from the storm and is making decisions with those concerns in mind. Please refer to the sections below for specific information.
Students
Students who can travel safely to the main campus should plan to resume attending in-person classes as of tomorrow, Sept. 19. Students who cannot travel safely to the main campus should contact their professors directly. Faculty are asked to be flexible in rescheduling due dates for classwork and exams.
The Baldwin County campuses are closed until further notice. Students with classes at the Baldwin County Campus, except for College of Nursing students, should plan for courses to be remote until further notice and will receive additional information from their professors. College of Nursing students completing coursework at the Baldwin County campus should remain in communication with the faculty and/or the College of Nursing dean's office for more information.
The Dauphin Island Sea Lab has experienced significant damage, and research labs are closed until further notice. Marine sciences graduate students taking classes at DISL will receive information about working remotely. Students should not enter the DISL campus for any reason. Graduate students should contact their major advisors for further information regarding dissertation/thesis research projects.
Employees
Employees who were working remotely and can travel safely to campus should plan to resume regular work schedules as of Monday, Sept. 21. Employees who are experiencing impacts from the storm or who cannot travel safely to campus should contact their supervisors.
---
September 16, 2020, 3:12 p.m.
Due to the impact of Hurricane Sally on the Mobile region, the University of South Alabama is extending the cancellation of classes and events through Friday, Sept. 18. No online or in-person classes, events or activities will be held today, tomorrow or Friday.
Student Information
The cancellation of all online and in-person classes, events and activities is extended through Friday, Sept. 18. No classes, exams, events or activities will take place today, tomorrow, or Friday.
The Housing Office has reopened all fraternity and sorority houses as well as Delta 3, 4, 5 and 6; Gamma 0, 1, 2, 3, and 4. Students in those residences may now return. The dining hall will be closed today, and will reopen tomorrow from 9 a.m. to 9 p.m.
Unless otherwise announced, all classes and activities may resume as of Saturday, Sept. 19.
For resident students, USA Police will respond to emergency situations. Please call (251) 460-6312 in an emergency.
Employee Information
Essential employees should check with their supervisors to receive instructions about on-campus work schedules. All custodial and maintenance employees should report to work as scheduled.
Remote work for all non-essential employees will continue through Friday, Sept. 19. All non-essential employees should plan to continue to work remotely today, tomorrow and Friday, if they are able to do so. Non-essential employees should not come to campus at this time.
Researchers with grant proposals that are due this week should plan to submit these proposals by the deadline.
USA Health employees should check with their supervisors for information
The University will issue additional communications as needed. Information will be available from the following official University sources:
Email message to the University Community
USA Weather and Emergency Hotline at 251-460-6999
USA Website, southalabama.edu
USA Alert Mass Notification System and/or Public Address System